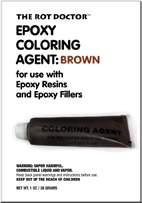 EPOXY COLORING AGENT
Description
A soft coloring paste specifically formulated for epoxies. This will color the epoxy various shades of brown, depending on the amount of coloring agent used. For use with our Epoxy Fillers, Putties, Pastes, and Resins, and fill-mixtures of our Epoxy Resin and sawdust. Very little is needed! One tube goes a long way.
An Overview
Many of our customers want to color the final epoxy fill to more or less match the tone of the surrounding wood. This can be done with dry pigments, but this specially formulated 1 oz. brown paste toner is a lot easier.
Thoroughly mix the Epoxy Fillers or Epoxy Resins/Sawdust, and then slowly add and mix small amounts of the coloring agent to achieve the desired tint. Very little of the coloring agent is required to properly tint the mixed epoxy.
Below is a rough chart of the tones we got when adding the coloring agent to (top row) our Fill-it™ Epoxy Filler and (bottom row) our Layup & Laminating™ Resin mixed with sawdust. The left samples are the product as it naturally mixes, and then the others after toning agent has been added. For additional information refer to the Epoxy Coloring Agent Safety Data Sheet.
#108
Epoxy Coloring Agent: Brown
1 ounce tube
$15.96