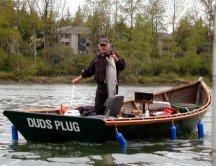 About three years ago my Uncle Dud passed away at eighty five from a stroke while having surgery on his elbow. Dud was a river rat on the Willamette River near Oregon City. He was an old timer that fished all of his life from his property located right on the river directly across from Lake Oswego.
Dud started fishing in the 30's and fished before motors were common. He used to row along the river using tin can lids and homemade spinners made from old spoons. He was an old timer that came from the generation that made everything from scratch including his own boats. Dud built many double ended dories as he used to row out over the surf on the Oregon coast near Canon Beach to go bottom fishing.
There are many years worth of old fishing stories. Besides building his own boat he invented many lures such as his most famous Dud's Plug or the Triple Nelson or Full Nelson, as his last name was Nelson and the fact that in his early years of college he was a wrestler. He named his last boat Dud's Plug and this is the boat that I inherited from his only son Dudly Nelson Jr., a retired Oregon State Game Enforcement officer.
As Dud lived on the Willamette River he moored the boat, built about twenty two years ago, on the river year 'round. It sat out in the rain and cold weather except for the years he pulled it out of the water to repaint and refurbish. The dory is a unique variation of the Pacific City dory in that it is lapstrake and has some special design features such as the rounded bow. Dud used a variety of woods such as the Port Orford cedar that he salvaged from the beach in front of his beach cabin at Cape Falcon on the Oregon coast.
Dud was also a policeman. A retired police lieutenant from the Portland Police Dept. He was in command of the river patrol when the city decided to turn it over to the fire dept. Dud liked to take local dignitaries fishing in the spring when the salmon were running. The sports editors from the local newspapers would fish with him, as well as many city officials. God only knows how many salmon have crossed the gunwales of this boat over the years. It could be hundreds or even a thousand or more. I have photos from news articles of past springs featuring my uncle in his famous boat, fishing the spring run.
The point is, this valuable boat was destined for the bonfire two summers ago as my cousin had determined the boat was beyond repair. Of course I didn't know this until recently as I had made an inquiry as to the disposition of the boat right after my uncle passed away, and said that I would love to have it. Upon hearing this my cousin called me up one afternoon and offered it to me. After thinking about it a couple of days I decided to bring it home. The first summer I just let it sit in storage. The paint had been sanded off the bottom and was peeling off the sides. I knew I was going to have to sand it to bare wood. The floors where missing. Basically the boat looked like it had washed up on the beach and sat in the weather for a season or two.
The next season I turned the boat over and sanded all the paint down to bare wood. I chose Unilux boat paint and primed and painted it using three topcoats. That was in August last year. I covered the boat and waited for spring to flip the boat over and work on the inside (I do some things backwards). But when I uncovered the boat the next spring I noticed the dry rot underneath the new paint and that's when I found out about the Rot Doctor.
I have purchased about five gallons of CPES* and I don't know how much filler and two tubes of Dymonic FC. What this product did for the boat was miraculous. I believe there is no way this boat would ever have floated again without the advice I got from you folks and without the generous amounts of CPES* I applied to the hull. The most likely scenario that would have occurred is that after spending all this time with the boat, and without treating the rotted bottom of the boat with CPES* I would have gotten disgusted with it and burned it myself. There is no way this boat could have been saved as bad as the plywood on the bottom of the boat was. It was as punky as a saltine cracker but after pouring the entire two gallons of CPES* the wood is like new. The wood shines like it was varnished and does not absorb water at all. When I tap it with a screw driver it sounds very solid.
Last night I launched the boat for the second time after sealing the leaks I found and repaired with CPES* and Dymonic FC. It did not leak one drop. The boat is a dry boat and is probably dry for the first time since it was first made. After I finished my trip down the Willamette River with a big smile on my face I stopped by to show the boat to my cousin and her husband. They almost cried they were so happy. My cousin's husband told me, "We didn't think that boat would ever float again, let alone look as good as you made it look." This made the whole thing worthwhile.
This boat is famous around where I live and there are going to be a lot of people happy to see it again during next year's spring run. This boat is very famous in the Milwaukie/Oregon City area and I expect to get another twenty years out of it, thanks to the Rot Doctor.
Thank you so much for your kind advice, patience and products.
Tony B.
Milwaukie, Oregon
* These products are unavailable, we are selling comparable products that will perform these same tasks. Feel free to contact us if you need assistance with which products to use.
---
Have questions?
Contact us by phone 206-364-2155 or e-mail (send us your pictures) at drrot@rotdoctor.com and we will gladly answer questions about our products or how to apply them. With 20+ years of experience and many more in the boating and construction industries, not much surprises us. We are here to help our customers solve their issues. Let us help you to not have any surprises in your repair project.
Our business hours are 6:30 AM to 5:30 PM Pacific Time, Monday–Friday.
Tech support is available over weekends and holidays 8:30 AM to 5:30 PM Pacific Time.
The Rot Doctor, Inc.
P.O. Box 30612, Seattle, WA 98113
Voice: 206.364.2155 Fax: 206.364.4744 E-mail: drrot@rotdoctor.com
The Rot Doctor, Inc. ©1997–2021. All rights reserved.
---