Home > Product Line & Price List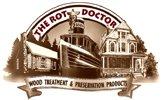 Quick click to:

This is our secure online ordering form and listing of our wood restoration/preservation products which include our epoxies, accessories, as well as our line of polyurethane sealants and coatings, the sizes available, current pricing and other pertinent information.
More detailed information about how these products are used, pictures, diagrams and a lot of other useful information can be obtained by clicking on the product name or picture links. Product SDS sheets can be read and/or downloaded in the Product SDS section.
Questions people have raised, and our answers, are in the Questions & Answers section. You can also see the projects that our customers have completed in our Customer Projects section.
Always feel free to e-mail us at drrot@rotdoctor.com or phone us at 206.364.2155 anytime Monday – Friday between 6:30 am to 5:30 pm Pacific time. Tech support is also available over weekends and holidays from 8:30 am to 5:30 pm Pacific time via phone or email.
Instructions for using our shopping cart -- Please enter the quantity of the item you want to purchase in the QTY box next to "Add to Cart" BEFORE clicking on "Add to Cart", if you do not put a quantity in any of the boxes then it will just take you to an empty cart. You can add multiple items (1x 122, 4x 654 for example) and then click "Add to Cart" and it will add ALL items with quantities to your cart at once.
The use of our products and services constitutes acceptance of our Terms & Conditions as well as our Privacy Policy.
-- Thanks for ordering with us!