Home > Q&A Main Page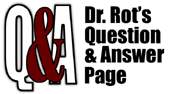 If you have a question for Dr. Rot regarding our products or your project for homes, boats or whatever you are working on … or even some answers to contribute, please send them in and we'll post them here. We love to get pictures of your projects; send the pics via e-mail as jpegs please.
Questions and answers are categorized for browsing. You can choose from:
Boats (wood and fiberglass)
Miscellaneous (all the questions that didn't belong in any other category — contains questions and answers about Products; Furniture; RV's; Campers; Trailers; Statuaries; Instruments and lots of other projects).

We have been getting many positive comments about our products from customers, so we decided to put some of them in this special section of our website. Go to Customer Comments Index.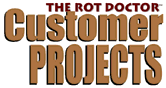 Here are some interesting projects that have been sent in by customers as well as links to customer projects that we have in various other parts of the website. We hope you enjoy reading them. Go to Customer Projects Index.

Our 'Zine is articles on all types of tid-bits about restoring rotten wood, information on wood in general and anything we think might be interesting to share.
Browse through the Rotten'Zine Contents to see current articles.
We encourage you to submit items, large or small, that you think would be interesting. Our process is simple enough: We take what you submit, edit it if necessary, and then upon request submit a proof for you to review. With your approval, we post.
Submit material for our Q&A, Customer Comments, Customer Projects, and Rotten'Zine sections by e-mail or mail disc with jpeg images and text to:
The Rot Doctor, P.O. Box 30612, Seattle, WA 98113
E-Mail: drrot@rotdoctor.com
Digital jpeg photos are ideal. For text we prefer the .rtf or .txt format. We also accept prints, but please NO transparencies or negatives. If you want material returned, please send a self-addressed and stamped envelope.