Home > Customer Comments

We have been getting many positive comments about our products from customers, so we decided to put some of them in a separate section of our website. We hope you enjoy reading them.
Feel free to leave us a review with the Better Business Bureau or on our Google business profile. How ever you would like to send us your feedback, we look forward to hearing from you.
Send your project description, pics (jpegs please), and comments to:
The Rot Doctor, P.O. Box 30612, Seattle, WA 98113
Voice: 206.364.2155 Fax: 206.364.4744
E-Mail: drrot@rotdoctor.com
---
Sid Carradine, who is, along with his lovely wife, the current owner and curator of the Amzi Love Home. He recently contacted us to express his enthusiastic endorsement of our products,. He has been buying products from us for two decades, and continues to use them to preserve his great great grandfather's house.
If you are in the Columbus MS area, and are a fan of historic structures, as we are, you would do well to stop by and take a tour, or spend the night at this beautiful historic home/B&B. It is on the National Historic Registry.
---
---
Subject: Your epoxy repair protocol worked like a charm!
October 16, 2020
Hello Steve,
Thanks for the time you took to explain how to do the repair on my camper awning, using dowels and epoxy to fix the stripped out lag bolts.
It worked like a charm, just like you said!
I'm totally grateful! Thanks.
Take care, Bob
---
---
Subject: Boat Building
July 15, 2020
Hi!
I can honestly say that boat building is not a hobby I ever planned on getting into. However, a few neighbors and I built a small vessel for our community to use at our local lake, and we're all pretty hooked now! Of course, since all but one of us were novices, I've spent a lot of time digging around online for information that will make me more knowledgeable, because we plan to build at least one more before the summer is over. My research brought me to your site (specifically, this page: https://www.rotdoctor.com/zine/links.html), so in case you'd like to add any more info to it on boat building, I'm passing along the articles I found most helpful:
If you find them as interesting as I do, you're welcome to add them to your site. (*they have been added on our links page) I hope you have a great rest of the summer!
Best,
David
---
---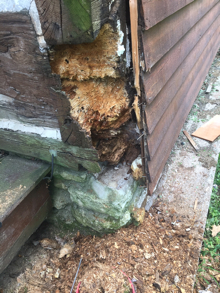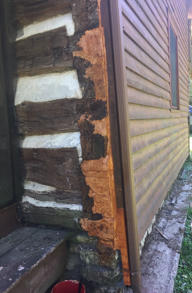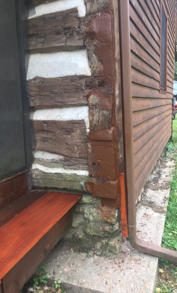 Click images to enlarge
Subject: My Cabin
September 3, 2019
I have finished the project at my cabin. By the way the project went very well and here are some pictures of before and after.
Finished job, got lots of complements! Our log home is made from hand hewn oak logs over 100 years old so not surprising there is some wear and stress. Frankly, it was worse than I thought when I got into it but I am very satisfied with the product and the result.
mek
---

---
Subject: Huge Amount of Appreciation
August 5, 2019
Please pass along my Huge Amount of Appreciation to the Very Nice and Extremely Knowledgeable young lady who stopped her bicycle ride yesterday to answer some technical application questions about some Products I had purchased. You guys take Customer Support to a whole new level!
Thanks, Rick
---
---
Subject: REALLY APPRECIATE
Jul 30, 2019
Wow… I REALLY APPRECIATE you taking the time to answer all my questions!!!
I'm going to put my order in this week. Maybe be able to catch a fish before Sept!! LOL
Not used to seeing that kind of customer service… I will send anyone that asks your way!!
Thanks again!!
Scott
---
---
Subject: Thank you
June 28, 2019
Got the delivery today: right on schedule!
Please offer Dr. Steve all my gratitude;
it is his expertise that convinced me to order from you.
Kindest regards,
Roland
---
---
Subject: Kudos
June 21, 2019
Kudos to you and your co-worker (I can't remember his name *Steve*) who helped me with my Whiteside Theatre order, which arrived yesterday. Amazing promptness of delivery, excellent customer service. Thanks to you both!
Lyn
---
---
Subject: Happy Customer
January 30, 2019
HI, I have used Rot Dr products for many years & have ALWAYS been very happy with it.
It once save me from tearing off my roof to fix a problem. The repair is still in place & all is as good as new. The products are worth every penny & in fact saved me thousands on that one occasion
I've used CPES as a preventive treatment on areas prone to dry rot & never had trouble again.
I used CPES on 2 workshop benches & a drill press extension table as a finish. This has protected the wood surfaces from solvents, staining etc.
The web site is educational & the folks on the phone both professional & knowledgeable.
Thanks for a great product
Dave S
---
---
Subject: Thank you…
December 9, 2018
Thank you for the prompt reply to my email information request. Very Helpful. Looking forward to another solid repair using your products.
Paul
---
---
Subject: Thank you for your products.
December 5, 2018
Thank you for your products. Always find more uses for CPES. (Not always sure that's a good thing.)
Peter A
---
---
Subject: Very pleased with results.
October 30, 2018
Notes from a new order: I have used this product before on a teardrop camper I built and sold. Covered entire trailer. Very pleased with results.
Homer F
---
---
Subject: Great products and equally great advice from you.
October 29, 2018
Four days since I filled my wood-fired soak tub and no leaks. Great products and equally great advice from you.
There is a slight resin-like smell to the water so I will drain and refill tomorrow.
r.
---
---
Subject: Okay, product arrived.
August 28, 2018
Okay, product arrived. Now, I have NEVER done this before, but I have to let you know that the packaging was insanely good. I have never received anything so well packed. And the best part? No plastic. Great job. Thanks. On to fixing up the bad wood. What started off as what I thought would be a 5 minute paint fix-up… now 4 days for the first part to dry and then the epoxy filler and then the paint.
Fun, fun. -Fred
---

---
Subject: Love this product!!!
August 23, 2018
Love this product!!! Still saving me a ton of work keeping my 67 Chris Craft afloat. Most recently found it especially effective for re-sealing areas of delaminating/leaking edges of its 50 year old plywood bottom lapstrakes and permanently solidifying "fuzzy" inside plywood surface layers. Worked so well that I cant even get an awl 1/16 into edges between the plies now. Doesn't leak a drop now either. Amazing.
Bud B.
---
---
Subject: Great product
May 16, 2018
I live in a Log home and used these products probably 10 years ago. Repaired areas still hard as a rock. Heading to retirement in 2 years and time to repair replace windows, etc. Never know when a weak spot will be found even in cypress. Great product.
Barry M
---
---
Subject: 10 years ago
May 8, 2018
I used your products almost 10 years ago, and never looked back at the area (an exterior window sill) to see if it worked. Now, with another project in mind, I went back to take a look, and the previous project was absolutely perfect, no rot, no decay, perfect solid wood and a solid paint coat.
Michael M
---
---
Subject: Happy Customer
September 29, 2017
I am in the middle of installing trim around one of my windows that had rotted out due to it's location, in terms of roof runoff and my neglect. After pulling off old trim I noticed a section of sill from an original window that had rotted out. I did a quick internet search, found your product, and took a flyer by ordering your product. Not knowing what to expect, I was very attentive to following your instructions. After getting the area dried out well, I observed that I was working with a mesh of fiber (xylem and phloem), I was able to saturate the wood with the CPES, and after hardening, get the filler to bind with that to make the piece as hard (probably harder) than the original. The results far exceeded my expections! Thank you.
---
---
Subject: Fantastic products.
September 17, 2017
Fantastic products. I have been using them for over 10 years for my log home repair.
Deborah G
---
---
Subject: Your products are great.
August 21, 2017
Your products are great. I have cured the mast foot which had several spots of dry rot while still in place. I have no doubt about the integrity of the repair. You injection kit is excellent and responded to cleaning by inducting thinner a few times after use. I thank you, and your advice was spot on and saved me $$$.
Sincerely,
Charles O
---
---
Subject:Vintage Window Restoration
February 23, 2017
Thanks Guys! Over the past 15 yrs I've used MAS, West Sys, Sys Three. The CPES & Fill-it epoxy putty is by far the best I've used, I look forward to playing with the new stuff I ordered.
-Chris
---
---
Subject: Thank you in advance
January 18, 2017
Thank you in advance for your advice and your pro-customer approach. It's fun to see such positive reviews all over the internet for your business.
---
---
Subject: Thank you
June 22, 2016
I appreciate the consistently good service. Rot Doctor has the best product on the market, so you could probably get away with having crabby, unhelpful people working there. But the opposite is true, no matter which department I've interacted with. J
Bill
---
---
Subject: Your products do an amazing job.
June 12, 2016
Your products do an amazing job. The logs treated 6 years ago remain in perfect condition. I would highly recommend it to any log cabin owner it repairs dry rot and lasts.
I'm sending Al a little of another of your product to try out. Al does the repair and he recommends your product to all log cabin owners in the area.
Thanks, Leo
---

---
Subject: Thanks for a great product.
June 3, 2016
I've used this product in the past for various purposes and it far exceeds any other penetrating epoxy. But, then again, you already knew that. Thanks for a great product.
James G.
---
---
Subject: Unfair negative press
April 25, 2016
You seem to get some unfair negative press on this product from purported "experts" on sites like iboats who obviously don't know or don't know how to use it properly. But I can tell you this product has saved me a TON of work and has heading off having to do some additional work or re-do work.
You can't save all wood, and you have to know where to draw the line, like especially with important structural pieces, but I find this especially good on non-supporting painted wood that has gotten wet, then rotted soft but is in its proper shape and has completely dried out. or that you can dry out first with a heat gun. You really have to dry it for best results.
After a good (and patient) filling application it sucks into the entire area of deteriorated wood completely and very deeply and that wood solidifies. I notice the treated wood seems spongy at first, butit continues to harden and becomes rock hard and structurally as strong or stronger than the original wood after about a week.
And it is also good on areas that are ADJACENT to those repair areas of severely rotted structural wood that you MUST replace. I serves to stop invisible areas of potential rot that may still be there beyond the repair area from continuing to spread, especially where you fit and scarf in the new piece. I treat those areas first, and then assemble necessary new pieces to it after it has fully cured.
I've kept wood boats for over 40 years. And I know when a good product comes along.
This stuff beats everything out there used for this purpose… or that was ever out there.
Bud B.
---
---
Subject: Great product
October 18, 2015
Thank You for a great product. I used the wood stabilizer about 2 weeks ago and just got to the filler this weekend. It is fairly cool this weekend, so I had lots of pot time. The injector really made it easy to get the stabilizer deep into the wood. I filled in the rotted places on some windows and sanded them yesterday. This sands easier than the automotive body putty I have used in the past. It looks like it will provide a superior finish on wood too. Again — Thanks for a great product.
Now if you could just invent a similar product that won't dissolve Styrofoam…
---
---
Subject: Shipping Issues
October 6, 2015
I wish all companies selling online did such a great job of communicating with their customers and keeping them informed regarding any shipping issues.
Thanks,
Barry
---
---
Subject: You all get an A++.
August 12, 2015
Super product, super fulfillment service, super tech support. You all get an A++. I'm learning how to use the product to repair a log home and even as a novice, I am having incredible success. Thank you.
William G. S.
---
---
Subject: I Love Your Product
July 2015
I just wanted to say that I love your product. We've only bought it once (and will buy it again) but you've been helping me for at least 10 years. Your customer service is awesome. The first time I called you, you told me that it wasn't the right time for your product (that was 10+ years ago). I remembered that and knew that you were the right place to go to when I really needed it.
We had a camper that looked great but realized later that there was some rot. I knew that there were some products at home depot that promised to fix it, but none of those guys would have told me not to buy their product if I didn't need it and I viewed them as posers anyway because I knew about the real deal.
We used your product on our camper and it was amazing, it salvaged most of the wood that was bad and we're doing another application this year to get the rest. Whenever we see a wood rot problem or potential problem we say "we'll just Rot Doctor that".
Also — you made me think of boats and how amazing I would find your product to be if I ever owned a boat (I won't, but after dealing with my camper I see your product as a miracle for boat owners).
Thanks for being such a cool company to work with. I was lucky in life to work for a great company starting out and they drilled into us that if someone calls, we might not be the right place for that call but we should help them as much as we can because some day we might be the right place. Perfect execution of that.
-Mike
---
---
Subject: Just a follow up and a Thank You…
May 19, 2015
Package arrives as scheduled and the repairs to the GB went as planned … lot's of experience with your great products. Don't think we could complete the restoration without them … and this was a time critical "out of the water" need.
People ask me if there is any dry rot on the boat … my reply is, Yes … some I know about and some I don't, but will discover GGGGG
Thanks again for all the help,
Jeff K.
Greenport NY
---
---
Subject: 17′ Fishing Boat
March 31, 2015
My husband and I are trying to keep afloat a 17′ fishing boat built by my dad in 1971. He lived in Palm Beach County, Florida and was a first-rate salt water fisherman. He took this boat out to the gulf stream (Boynton Beach inlet) to the Keys, to the Dry Tortugas, on the Chesapeake. My sister and he were buddies on the boat while I got seasick! Of all the cousins and grandchildren, I am now the only one who regularly is on the water (Lake Martin, Alabama, a 40,000 square acre man-made lake) and so I inherited the boat when my dad died in 2008. Thanks for having the products and willingness to walk us through application of them.
Diane C.
---
---
Subject: thanks
January 31, 2015
Hello:
I want to take a moment to say how impressed I have been with your very prompt and detailed response to my online order. If rotdoctor products prove to be half as efficient and reliable as you have been, I shall be a very happy customer indeed. Thanks, with much appreciation.
Richard M.
---

---
Subject: Using your product on steps in a Motor Home
December 8, 2014
I used your product and was impressed! Unfortunately buy the time I started my repairs much of the wood needing restoration was do decayed it was not salvageable. However once that wood was removed the remaining wood was treated and restored to near original condition. I say near since on of the support edges was completely destroyed and beyond repair. However your product gave me a firm base with the remaining wood to allow me to rebuild the under step and subsequently the vertical bracing. The new step is far stronger than the original and I would endorse your product to anyone in need of restoring rotted wood.
Your product saved me nearly $2,000 in factory or dealership repair costs. I would happily recommend your product to anyone in need of restoring rotted wood. AND it was easy to use and apply. It was and did everything you said it would and more.
Thank you
Alan M.
Huntsville, Al
---
---
Subject: Best Customer Service
November 19, 2014
Excellent, thank you for your fast response, one of the best customer services I've had the pleasure of doing business with. All of you should give yourselves a pat on the back, not often in this day and age, is a company know for there ongoing and professional commitment to their customers. I commend you on it!
Wil A.
---
---
Subject: Deepest Gratitude
November 7, 2014
We just want to express our deepest gratitude for your exemplary skills in customer service: response time, promptness, accuracy, efficiency, amiableness, and succinct communication/writing. In other words, you ROCK!!!!! Please take care of yourself and remember… life is purrrrrfect!!!!!
Namaste'
Mai-Anh
---
---
Subject: Thank You So Much!
October 4, 2014
Being able to get a hold of someone to answer questions at almost any time is wonderful. You should all be applauded for giving this kind of support. This is a great product. Saved us lots of time and money on window sills and siding. Thank you so much!
Linda Y. E.
---
---
Subject: Cudos!
September 15, 2014
Hi,
SO VERY IMPRESSED! Thank you so much for all the help you gave with my project. My horse trailer is like new again. The support you gave both over the phone and through email is second to none! I've not attempted such a big project before and had much intimidation about it. But, I did it, and credit you, with not only great products, but great encouragement as well.
Cudos!
Donna P.
---
---
Click images to enlarge
Subject: Some before and after pictures
July 24, 2014
Some images of before and after of a recent restoration project of log posts with RotDoctor products. The blue horizon in the background is the Pacific ocean.
Thanks,
George
---
---
Subject: Rafter Tail Suggestion
June 23, 2014
No questions, I have been using and recommending your products for years. Repainting the 1903 shingle style bungalow and repairing additional window sills, outriggers and misc. (that were not repaired the first time.) The product I used the first time (ten years ago) is still in place and solid. A recommendation to all old home owners with open rafter tails. Apply penetrating epoxy and then a coat of epoxy putty to totally seal the end grains of the rafter. Works great and stops water infiltration. Quick fix, apply your product carefully and sand with orbital sander (wear a mask.) If you do this in conjunction with rafter prep, the time is minimal. Love the lay-up epoxy for window sills. I apply it to all of them to fill any wood checks.
RAN
---
---
Subject: Amazing Rot Doctor Products used in Pete's Sign Restoration.
May 29, 2014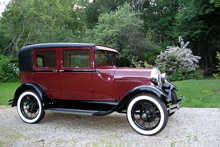 Well, I told you I would send photos of our Lake sign when Pete finished restoring it. It was a monumental task with big rotted areas, front, back and on the edges. Thankfully he did not have to carve the text again. I guess after Pete tackled his 1928 Model A Ford Fordor Leatherback a few years ago that had lots of rotted wood made it easier to do this project, and Rot Doctor came through like a Champ once again.
Thanks again for your Great Product.
Pete & Fran Geremia
The 2 photos of the sign that were taken before the project was started did not capture the ends of the sign, and we did not noticed until after Pete got started on the project.
---
---
Subject: Love your products
March 13, 2014
I love your products, because they really work.
I have an old house in which the window casings were not maintained properly. As a result, there was a lot of rotted wood in all the sills and frames. It was going to cost me hundreds, if not thousands of dollars, to replace more than half the windows in my house — so I thought. With your products, I was able to remove the rotted wood and then repair the damage areas with your epoxy sealer and filler. It hardens like cement, looks great after it's painted, and stays bullet proof for years. I love products that actually do what they claim. Great job! Keep up the good work in producing top quality stuff!
Andy H.
---
---
Subject: Thank you
October 23, 2013
Thank you for having done all the research and testing to find the best products. These materials are going to help a lot with some older houses that we own, and also a classic fiberglass boat whose wood has rotted out, exactly as you described. I only wish I'd found out about your products years ago. Protecting wood from rot has always been such a difficult problem.
Pete
---

---
Subject: 45′ 1929 elco
September 4, 2013
Thanx again for a great product, with this order I will have the bottom done on my 45′ 1929 elco, I will be getting 3 more gallons of the grey in a few more weeks and the bottom will be done with the topsides to be done next year, I'll send some pics in a separate email… thanx again..
Robert C.
Click images to enlarge
---
---
Subject: Before & After
September 4, 2013
I thought I would send you before and after pictures. I'm no expert at woodworking, but your product was so easy. I used a grinder to smooth the edges and then bought a piece of log siding to cover the big hole. The cleaning out and the epoxy was so easy to use. I finished the log with some light grinding and sanding and then stain. The results were amazing. Thank you for your help. It is truly an amazing product.
Sent while on the go compliments of technology, while living life with crazy joy, endless hope, unrestrained love and tranquil peace. Be blessed!
Sabrina W.
---
---
Subject: Unconventional Use
July 2013
We use your products in a slightly unconventional way. We have a nursery that raises, and sells bonsai trees. We offer many varieties of conifers, deciduous and tropical living trees. We use your products on living trees, to stop the deterioration. Many trees such a bougainvillea have extremely soft heartwood, and when exposed, rots quickly. We use different products. Such as a lime sulfur product on junipers and "hard woods", and Minwax wood hardener on some things. (but it must be applied annually!) Even though we are preserving "dead" heart wood in trees, obviously there is a boundary that touches the living Cadmium layer. Currently we cover this with a "cut paste" that protects it from the epoxy. Currently I have a "large" bougainvillea (about 8 inch diameter trunk) about 24 inches high, that had termites, and of course a large hollow. I have killed the termites, removed most of the "punky" wood. I am going to try painting the inside with your epoxy sealer first, then filling the void with your putty. In the past we used Min Wax Wood Hardener, then filled it with Concrete. Very heavy, and not shapeable with wood working tools. Your product applied to the heartwood, coat after coat until it will not absorb any more, seems to last forever. Most trees are out in the weather, and are watered at least once per day, year round. Your products have held up well.
Thanks,
Hurley J
---
---
Subject: Great Product
June 27, 2013
Great product!! I built a WEST system boat a few years back, and some rot developed in a toe rail (difficult area to repair and get at all the rot out). I used CPES and the repair has held up ever since; that's over five years now!!
Richard M. W.
---
---
Subject: Thank You
June 11, 2013
Thank-You Very Much. I absolutely love your Product. Each time I work with it I appreciate it even more.
Tbaker
---
---
Subject: Fantastic Service
June 1, 2013
What fantastic service! Have a great day. I sincerely appreciate the personal service, I thought it was a thing of my past.
Thank you!
Mark H.
---
---
Subject: Thanks
May 28, 2013
I just want to thank you. Got my CPES today. Not my first order — been ordering from you guys for years. Great stuff. But these thanks are for your consideration of our planet and the fact that you use biodegradable peanuts in your packing. I sing your praises — not just for your products but for your social conscious!
Thanks again.

Nina H.
---
---
Subject: 20′ tall tapered columns
May 21, 2013
Good Morning,
I had used your product to repair 4 large columns on the front of a commercial building. They were 24″ wide at the base and 20′ tall tapered columns. I wound up making templates to use at different places along the column in order to keep their circular shape. Your product was easy to work with. I used the CPES to start with along with the injection kit and Fill-it. I've attached a couple pictures of the project so you could see how well your product works.
I had used a total of about 4000.00 of your material to do these repairs and even when you add in the labor it was still way cheaper to repair the columns than it would have been to replace them.
Thanks,
Neil J.
---
---
Subject: Immense Satisfaction
Jan 31, 2013
Words cannot sufficiently express our immense satisfaction with your product and application system.
Thank You,
George K. (Emma's) Son
---
---
Subject: Kudos!
October 17, 2012
I just received my second order from you and was marvelling at the transaction.:
* Online ordering was dead-simple and there is a wealth of useful information on the website
* Shipping was faster than expected — to my door within 36 hours of ordering (disclosure: I live in Seattle)
* Product was beautifully (and I do mean beautifully) packaged for shipping with all components neatly wrapped and accompanying literature attached
I am sincerely impressed with your business and the quality of your customer-facing operations.
Thank you!
David C.
---

---
Subject: I love your products.
Oct 3, 2010
I am a returning customer and I love your product! My wife and I are restoring the front porch on our 1915 home and CPES has proven to be the product to use for saving the original tongue and groove floor boards. I also apply it to the bottoms of the columns which have been removed, stripped to bare wood and repaired if needed. Thanks again for a great product!
Ken S.
---
---
Subject: Direct Comparison
Jul 11, 2010
Just used your products for several restorations, including doorjamb rot and some soft areas in a wooden deck. Also had and used some Minnwax non-epoxy hardener, so had a direct comparison. Your CPES penetrated deeper and set up harder than the Minnwax product; I have more confidence in the durability of the repairs. The L&L epoxy with sawdust made a great filler for the bigger gaps, yielding mechanically very solid repair. I also liked the troweling, blading behavior of your filler (and now I need some more). Overall, I liked your products better than other similar products I've used over the years. I hope I don't need them very often (gg) but am glad they are available if I do.
Dale H.
---
---
Subject: Thanks
June 25, 2010
Your "Rot Doctor" products are great. They did wonders for a log post stairway renovation by extending the life expectancy and making it look great and solid (no more gutted rotting log cores). Each post is capped with a layer of the Fill-it Epoxy to form a cone shape so water runs off and not into the log. The residents at our homeowners association love the renovation; the quality shows.
Thanks,
George C.
---
---
Subject: Recommending Product
Dec 9, 2009
Dear Sirs:
The trouble with testimonials is you never know if they're legitimate of just written by an advertising department, but I have used your products for a number of years now and wanted to let you know how pleased I am with them. I have had a number of problems with both dry rot and termites, in part because I did not know I would have problems, and hence, did not do anything to prevent them.
Hind sight being twenty-twenty, I do wish I had used either your CPES or some other product to protect the wood against dry rot and termites. In a sense, I do believe termites are going to get through no matter what. Maybe not. Dry rot, though, is easily prevented if you treat the wood first. However, that is hind sight.
However, since I do have all this unprotected wood that continues getting these problems, I am grateful for your products. The CPES is a pricey way to go, but whenever I have damaged areas to be repaired, I make it a point to apply it before I use the Epoxy Filler. And I will say, too, that NONE of the areas I have treated with your products have had recurring damage. Unfortunately, I made something of a small city in my back yard, so there is quite a bit of wood that I inspect every Spring with my heart in throat.
As for the Fill-It Epoxy Filler, I have nothing but praise for this product. I am a cabinetmaker who made some very elaborate railings for some raised decks, and there are a lot of rounded areas and bull noses. I was a little sick when I saw the extent of termite damage the first time I used your filler for this purpose, but I must say it worked like a champ. I have had some major areas of damage and have been able to get every one of them looking the way they did before the damage. It sometimes takes a couple of days because of building up coats, but with a little patience and a sanding block it ends up looking just fine. And I am then confident that between the filler and the underlying CPES that the area of damage will not be damaged again. Unfortunately, that still leaves everything else! But such is life.
I would definitely recommend your product, which is why I took the time to write this.
Joseph F.
---
---
Subject: Thank You
June 24, 2009
I just wanted to say thank you very much for your unbelievably quick response to my questions. Your answers were very helpful. It is a rarity in this day and age to get customer service like that. Again thank you for your great customer service and the great products you offer.
Sincerely,
Don B.
---
---
Subject: Thanks
May 28, 2009
Greetings — Thanks for your efforts in this order. As we discussed on the phone, one shipment is fine.
After we hung-up, I remembered I wanted to say that the problem areas I am dealing with now are not the same areas that I worked on with your products in 2003. Those appear to be in good shape still. I think you have a good product. I wish I didn't need it, but it works great for difficult situations.
Thanks so much,
so long FTG
---
---
Subject: Thanks
May 18, 2009
Thanks for the quick response! Great customer service. I really like the website info and product sheets included with the shipments. Makes everything easy.
Best,
DT
---
---
Subject: Kudos
May 14, 2009
Good Afternoon
about three years ago I ordered some CEPS and some Uniflex 225* from you and have been very pleased.
We refinished our decks on a cold-molded 41-foot sailboat and after three Alaskan winters (and hard charter use all summer) the combination of CEPS and the Uniflex* is still perfect! I need to complete the cabin top and the cockpit sole and I really like the grip of using the rubber granules painted into the Uniflex*. Winch-handles just bounce off it when dropped, never a sign of any chipped paint!
Thanks!
Mike
* Since Uniflex 255 Aliphatic is no longer available, we suggest our Elasta-Tuff™ 6000-AL-HS instead.
---
---
Subject: Good Service
Apr 29, 2009
If your product is as good as your service, it is a wonderful world! Many thanks for getting our order out to us so quickly.
Dave
---
---
Subject: Thank you
Feb 09, 2009
I wanted to thank you for these products. I received them Friday as you indicated, and by Sunday my project was completed! My buyer came to inspect, loved the results and we are all set to close the sale of our home at the end of this month… I couldn't have done it so well and so inexpensively without your help and the rest of the Dr. Rot team.
Very kind regards,
James
---

---
Subject: Wonderful Stuff!
Dec 4, 2008
I used your product a year ago when I remodelled an old porch. Your CPES allowed me to keep the original porch's 25-year old cedar beams. Wonderful stuff!
Burt
---
---
Subject: Storm Windows
Nov 10, 2008
Just wanted to let you know I am extremely pleased with the CPES and epoxy filler I used on my rotting storm windows. I am confident they will withstand our cold winter and last for many years. The areas I treated are rock solid.
Thanks for an excellent product!
Carol
---
---
Subject: Thanks
Oct 14, 2008
Thanks again. By the way, my package arrived today. It looks like this weekend's tasks are determined!
Thanks for all of your great help. I have never dealt with a company, here in Canada or in the USA, that gives such great service. Please pass this on to everyone there.
Joe
---
---
Subject: Kitchen under floor rot
Jul 21, 2008
Thanks again for the fast reply, especially on Sunday. I appreciate all the advice, and you will be the first place I will recommend anyone who has a rot problem because I think that being there for your customers is just as important as the quality of your product. And you can quote me on that.
SG
---
---
Subject: 100 year old home
Jun 20, 2008
Hello,
I first used your CPES and fill it last Fall when I found a small rotted area on the porch of my 100 year old home. I had just had the entire porch replaced 2 years ago, so I was pretty upset. It not only worked like a charm: I can't even tell where the spot was any more! Recently I discovered a 3 inch area of rot on the end of one of the porch boards. I ordered the layup and laminate/sawdust for it, because I felt the area was too large to use the fill it. I patched it last night, and it looks absolutley wonderful! The alternative would have been to hire someone to take down a big column just to replace one board!
Your products are awesome. They are especially a "must have" for us old house owners who are always fighting the battle of the rot.
Cheryl
---
---
Subject: Saved Thousands of Dollars
Oct 19, 2007
My order came yesterday. Thank you very much. I saved thousands of dollars by treating rotten windows and window sills instead of replacing them.
Keith
---
---
Subject: Thanks
Oct 19, 2007
I have been using your product in restoring wood around the place for about 2 years… wish I had found you earlier. This summer I smoothed the tops of my 3 rail fence posts and treated it with your CPES. I then filled the few that were rotting and they are now shedding the rainwater instead of soaking it up. I just ordered another batch and am impressed with your service. Thanks for the quick turn around.
Jonathan
---
---
Subject: House Beams
Oct 06, 2007
Dr. Rot:
Over the past several weeks, I've repaired five 5.25 x 11 inch beams holding up the front eaves of our house. The house is 30 years old and being two stories, there has been little, if any, preventative maintenance to these beams where they stick out from under the eaves. The rot varied from fairly minor to two that we were afraid would have to be replaced. We received several estimates and after the shock wore off, we decided to look for alternatives. A subsequent web search turned up your company.
After reading about your products, we decided to take a chance and order CPES, epoxy filler and laminating/layup resin. I have to tell you: these products do exactly what you claim they will. I've used resins and fillers in the past, so for me, using these was pretty easy… other than the fact that I was working almost 25 feet from the ground.
The CPES is a phenomenal product that is easy to use and I was surprised at how well it stabilized the wood fibers. Depending on the depth of the repair, I used a combination of filler and resin. Once filled, they were easy to work. After being painted, you can't tell that they ever had any rot.
Thanks for creating these great products. They saved us thousands of dollars. I've already recommended them to others and will certainly use them again.
Thanks again,
Steve
---
---
Subject: Recycling and Re-using
July 31, 2007
In this day and age of recycling and re-using, it only makes the best sense to use your products. Thank you for making this so much less an arduous task. I very much appreciate the opportunity to salvage wood that has so much more left to offer by using CPES and Fill-it. Well done.
Best regards,
Peter
---
---
Subject: I'm impressed…
July 26, 2007
You may remember that I have been patiently repairing joists of my cantilevered deck.
I invited a structural engineer to take a look at what I was doing. He suggested that I not invite the Building Inspector to take a look, but validated that your epoxy is my best shot at repair, short of major expense and rework to my house. He suggested that I also run a coat of L&L epoxy over the outsides of all my joists, not just the areas which show rot damage. His thought was to thoroughly protect the wood against any further deterioration due to moisture. This modest extra effort makes sense because if that wood fails, the cost of replacing these joists will be huge.
So, I got an autobody squeegee. I locally painted on a mix of L&L and sawdust, and then spread it thinly with the squeegee so that it filled all the small cracks that had opened in the wood due to drying. This went pretty quickly. My goal was to cover the whole outside surface of the joinsts and fill anything that represented a path into the wood. I left as thin a layer of L&L on the surface as I could, while forcing the stuff into all the cracks and crevices.
The result is an eye opener. I wish I had measured the deflection under load of these joists before they were treated, because they are now rigid as a rock. They are noticeably stiffer than they were before the L&L, and these joists had already been treated with CPES which also stiffened them. I am surprised that a thin layer of epoxy on the outside would make so much difference. I bet it soaked in and reinforced the wood surface making a much stronger structure.
Very nice stuff…
Charlie R.
---

---
Subject: RV Roof and Inside Wall Repair
May 2007
Dear Rot Doctor,
I thought I'd let you see how I repaired the rotten roof on my RV. You have a great product and a great company. Thanks for answering my questions on the phone and giving me the confidence to to tackle this project.
I've posted a link to these photos on rv.net, so a lot of people will be seeing them.
Thanks again,
Brian N.
To see Brian's repair in our Customer Projects section go to:
www.rotdoctor.com/projects/rvrepair.html
---
---
Subject: Thanks
Jan 23, 2007
Doc,
I just had to write this letter to thank you for the excellent customer service and the superior products you endorse. This is the second project I have attempted, and I must say that the help you have given and the products you sell are by far the best and easiest to use.
My first project was a transom repair… rotten wood. Using the products you recommended, I successfully repaired it in half the time I figured it would take.
I wish everyone had the excellent customer service and products you do. Once again, thank you for your quick response and fine service commitment.
Dave C.
---
---
Subject: Your Products Saved Me Money
Sep 12, 2006
I just want to say that you guys have saved me over $20,000. Using your CPES and Fill it, I was able to completely restore my very expensive windows and sills, which were severely rotted. I'm still in the process of restoration, but I know that your product will last indefinitely. As a matter of fact I just placed another order for more material to continue my restoration project.
Please feel free to use my experience as a reference for your outstanding products.
Thanks so much for making an outstanding product that I will recommend to everyone I know.
Joseph S.
---
---
Subject: 1960 Forester Tri-hull Fishing Boat
Sep 12, 2006
I have a 1960 fiberglass Forester tri-hull fishing boat. It is in very nice shape except for the transom. I purchased your CPES, L&L and epoxy for the project followed some of your customer's tips and had it back in the water this past week. The process was a little slow at times but overall it turned out great. Thanks for all of the support!
Steve B.
---
---
Subject: Using the Product for Apx 5 Years
July 03, 2006
Best product on the market — need to email you some before/after photos of some repairs — esp. a window sash — been using the product for apx 5 years now — have had no failures on any repair — bonding to wood has been perfect and exceptional paint hold (I use Bullseye 123 as my primer over the Fill-It) thanks for saving me a grand at least!
Greg S.
---
---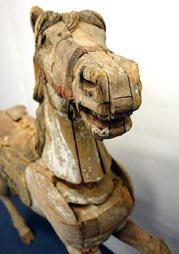 Click image to enlarge
Subject: Carousel Horse Restoration
March 06, 2006
Hello,
Thank you so much for the quick ship! I just got a new horse in and she needs a lot of it! She is drinking it up like crazy!? attached a picture of what she looks like and if not for you, she would continue to deteriorate until she turned to dust!
I always give credit when credit is due and you guys are by far the best that I have found! I look forward to trying more of your products in the future!
Thank you again!
Kendra
---
---
Subject: Thanks for Super Service
Oct 14, 2005
Just a note to say thanks for super service! My order got to you late on the 12th… it came today (14th). You can't ask for better service.
Roger A.
---
---
Subject: 210 Year Old Farmhouse
Oct 05, 2005
Thanks for the reply. I have to say that your organization could give lessons on how to service the public. Everything has been exceptional, communication, website, follow-up on order, receipt of order, and most importantly, the amount and clarity of the literature/instructions.
My wife and I have a 210 yr. old farmhouse in central VT. There is a lot of sill and much of it could use some CPES. Will let you know how this first application goes.
Thanks again,
Steve W.
---
---
Subject: Spike's Vickie Rann
May 6, 2004
Dear Steve and Jim,
I would like to take this time to inform you how satisfied I am with your service. Seldom does one run across a company that takes so much pride in their organization. Your products reached my home in Alaska in record time, I highly recommend you to all my friends in the boating industry and anyone else that might be interested in your products. It is indeed refreshing to be able to talk you guys by just picking up the phone and calling.
Thanks again for your service,
Spike
Update: June 10, 2004
Steve or Jim,
I laid the first coat of elastuff 3 weeks ago. I got the bow with two coats but the deck in the back had to wait because of rain. With just one coat on, I took the boat out and we got into some rough water, the decks got wet but I could not find any leaks. I need to put one more coat on the deck. Can I wash the salt off the deck, dry and then paint the final coat on or do I have to rough sand it now that the three weeks have past?* ALSO PLEASE SEND ME ANOTHER BATCH of the elastuff, it does such a good job I have decided to do my pilot house roof with it.
Cheers,
Spike
* In answer to your question, washing the salt off and scuff sanding would be the recommended procedure.
Update: June 11, 2004
The boat is pretty well done, as for the bulwarks I don't have any work left. I did what you suggested and covered the new work with the cpes and then a coat of the easypoxy. I like the way the cpes firms up everything. I will be putting cpes on all new work that ties into the old stuff. I have taken pictures as I went along and can send some at a later date as they are home and I am up here on the north slope. I will be putting living quarters in the old fish hole, that is why I am so concerned about the deck not leaking.
I was in Victoria several years ago and saw a boat similar to mine, an old fishing boat that had been converted to a nice pleasure boat. When I saw that, I went hunting for and ended up with this boat. It has a long neat history about it.
An old sea captain who was sailing large commercial sailing vessels up and down the West coast of the U.S. in the first part of the 20th. century decided to retire and build himself a sailing boat to sail from Canada to the South Seas. With this thought he went to Vancouver Canada in 1937 and had the keel of our boat laid; it was to be a two-mast schooner and built to sail rough waters. The war got into full swing, money was tight and he could not pay for the boat. The boat yard would not let him have the boat with out him paying, so the boat sat under a large shed until 1947. That year two brothers purchased the boat and turned it into a fishing boat. They fished the boat for five years and started hating one another so bad they had to sell the boat. The boat was sold to Cliff Gease the individual we purchased it from. Cliff fished the boat for tuna 200 miles off the Oregon and California coast for many years.
In 2002 we went down to Portland, Oregon looking at a boat to buy that we had found on the internet. We didn't like any of the boats so we traveled back up the coast looking in every harbor we came to hoping to find something that met our approval. On our last day we found a little harbor on Vancouver Island that had fishing boats tied up to the floats. The harbor master told us of Cliff's boat. We met him working on his boat. He was ready to sell her for $10,000.00. We were the first people he talked to about the sale. Two weeks later I went back down to have a survey done and an agreement was made. A lot of work and time later is the boat you now see. There is still a lot of work left but it is coming along, we hope to have a nice boat for our cruising off the Alaskan waters by next year. We do enjoy all the fishing and beach combing it provides.
Spike
---
---
Subject: Porch Columns
August 17, 2004
I wanted you to know how pleased I am with the repair to several 6X6 turned porch columns, whose bases had been damaged by rot. The instructions for the use of the liquid epoxy and epoxy filler were clear and easily followed. I'll admit that I struggled a bit while applying the filler because I did not use a polyethylene sheet and the material tended to cling to the spatula and pull away from the repair area. Nonetheless, I left it overfilled a bit and, after sanding with my random orbital sander, primer and paint, the repair is invisible. These are great products and I have recommended them to one of my partners whose home has damaged window sills. He will be ordering your products. Best wishes for continued success…
Cal J.
---

---
Subject: Transom Repair
July 15, 2004
Just an update..............
so far so good. Looks like I'm finally water tight. I finished the repairs to the transom and I've had the boat in the water at least 3 times. The final challenge is putting her in the river (Detroit River). Thank you so much for the time and knowledge that you've shared with me. I have to admit I was a bit skeptical about how well the CPES™ and L&L™ resin would work. I'd have to say that all my doubts are gone. The kicker for me was when I took a small piece of wood from my firewood pile to make a custom washer to level the area around a bolt that holds the out drive to the transom. The piece of wood was fragile an dry. After I managed to shape it I decided to coat it with CPES™ to see if that would help it hold up to the stress that it would be under from the vibration and heat of being in the engine compartment. To my surprise it did. I keep checking on it to see if it has been damaged but it has not. Needless to say I was amazed and I am still amazed at the strength that small piece of dry wood had after the application of two coats of CPES™. As for how difficult it would be to apply them. All I had to do was follow the directions that were included. If I had any questions I just emailed you and an answers were there. I'm even starting to look for other projects around the house that I can use these products on. By using this stuff I've saved just over 2,000 (two thousand) dollars in repair costs. I still can't believe it. I can't say thank you enough. If you are ever in the Metro Detroit area look me up.
Thanks again.
p.s. I have an 83–84 Bayliner Capri I/O with an I-4 Volvo motor.
---
---
Subject: Bathroom Subfloor Repair
May 27, 2004
Used CPES™ to repair a bathroom subfloor that had rotted due to a leak from the toilet that the prior homeowner had let go. Worked like a charm and saved tons of bucks that would have otherwise been necessary for demolition and reconstruction. Thanks! Also used it on a white oak bowsprit that had a few cracks. Soaked it first and then added filler to fill the cracks. Now going to tackle the balsa core in my deck. Love your stuff.
Glenn
---
---
Subject: Log Home Repair
June 22, 2003
The CPES™ has worked great on the repairs to our log house. We were a little cautious at first having never used this product before. Being cautious, we underestimated how much it would take to cover the areas where we needed it for repairs and how much we would like the results we got. It has worked so well, we have decided to do the whole house with CPES™ to protect it. The soft wood where repairs were necessary has hardened up and we expect the Layup Resin mixed with sawdust to finish that job well.
Thanks for your quick response and your suggestions. The ideas you sent us via e-mail worked well.
---
---
Subject: Bayliner Transom Repair
June 21, 2003
I have just finished a transom repair on a 1986 Bayliner Cuddy Cabin. It took about 8 hours. I was very pleased with CPES™ and the injection system. I was thrilled with your fill-it™ product. It did the trick.
Thanks
David W.
---
---
Subject: CPES Over Bare Wood Boat
June 2, 2003
Last year I bought a bunch of your products, CPES™, Layup & Laminating Epoxy Resin™, Fill-It Epoxy Filler™, and the Tropical Hardwood Epoxy Adhesive™. I have to say that after using the CPES™ and the Tropical Hardwood Epoxy Adhesive™ I am amazed at the quality of the products. The CPES™ has done wondrous things to my boat, things that I could have never imagined. I am also amazed at how much I was able to coat with the 2 gallon CPES™ set. What I've accomplished so far was to strip everything down to as bare wood as possible and then given it all a coating with CPES™. All and any wood that was wet, which I dried out, scraped off the rotted dry punky fibers from and then soaked with CPES™, now appears fresh and stable as does the rest of the interior planks, floor timbers, sidewalls/freeboards, etc., which have all been coated with CPES™ as well.
Lou
---
---
Subject: Lightning Class hull 9693 Bottom, Gunnels and Stern Repair
As you may recall I contacted you over 30 months ago asking for your help on how I should proceed in repairing the bottom, topside gunnels and stern of my Lightning Class hull 9693 built in 1960. You were kind of enough to review the pictures I e-mailed you and walk me through the steps and understanding of the applications of your various products. I followed your guidelines and 26 months later I launched Tringa on July 7th of this year. I sailed her a total of 42.5 hrs. I just put her on the trailer Nov. 10th after sitting on our buoy in front of our home located here on Vashon Island, WA. in Quartermaster Harbor, the entire time.
There were no failures of any of the repair work using your products, as well as no leaks of any type including the center board.
It was truly a wonderful experience to sail her without being concerned about my repairs and restoration. Thank you for all of your help.
Take care, Rick
---
---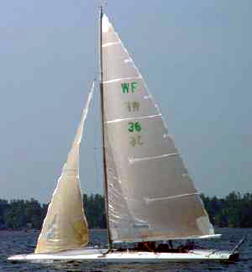 Thought I'd drop you guys a line and show you a pic of my finally completed A Scow, Dreamer.
I did a complete frame up using your products (maybe some of you guys remember me over the past year or two). From copious amounts of Sealer, L & L Epoxy to fillers, your products and knowledge made the process go a lot easier.
The hull is Cedar on White Oak ribs, most of which were shot. I went with a laminate deck instead of the original cedar plank method. This has proven to be stronger, lighter and finished off the project nicely.
Given it is a scow, even the best restorations are short term. They rot like fiends on a good day and given the nature of the boats, they wear out quickly. Thanks to your help it may hold out a few more years before it needs it again!!
Thanks
Bill R.
---
---
Subject: Oak Door Restoration
We have repaired and restored our oak door and were able to rehang it this weekend where it belongs.
Our experience with your products were just as we had hoped, we're very confident with the help of your formulations, our door will now last a very long time. Had we not met you on the internet, our door would now be clogging some landfill and we'd be out $975 for a replacement door that's not as good.
Thanks for your initial time in answering my questions and for your follow up as we placed our order.
When I am no longer landlocked in the midwest and can once again have a boat, I shall certainly remember the advice and products of Dr. Rot. Who knows, we might even have the courage to buy a wood boat.
Stanton B.
---
---
Subject: Garage Door Trim and Bean Rot Repair
Dear Doc,
In case you are curious, this is why I needed your products this summer: I took off some rotting exterior trim over the front of my 2-car garage, only to find that my major STRUCTURAL laminated beam behind it had started to rot. I was in a panic over the thought of the time and expense of replacing it (I never got a professional estimate, but I imagine that the job could have been between $5,000 and $10,000). I spent $300 on your products and fixed it myself. Your web site was very educational and helped me to understand what was happening. The products work like a dream.
I'm now using CPES to prime any wood I put up on the exterior of my house. I'd rather prevent the rot now then wrestle with a huge project later on.
Rick
---
---
Subject: Rot Repair on a 1960 T&T
Dr. Rot
Enclosed are some pictures of the boat that I used your products to repair. The boat is a 14 foot 1960 T&T. I used C.P.E.S. under the keel, in the bilge, the bottom below the water line, on the transom, and on all the mahogany deck and windshield. I also used it to repair some rot on the last inch of the oak ribs. It really worked a miracle on the ribs, they are really solid now. I used the boat a lot this summer and it seems to be holding up real well. I plan on removing the floor boards this fall and inspecting the ribs to see how well the C.P.E.S. is holding up. The paint on the bottom is holding up well, I applied it directly over the C.P.E.S. without any primer. The varnish is also doing well.
Sincerely,
Roland M.

---

---
Subject: Deck Restoration
Doc:
I just had to write to say THANK YOU for your products and your assistance!! I've completed the project using your materials and guidance and I'm very pleased with the results. Other than a serious deck replacement that would have taken months and many $$'s I don't know how the job could have been done to satisfaction without your products. I just couldn't believe how much structural integrity was restored after the L&L Resin treatment. Thanks again. I'll spread the good word about your products and service every chance I get.
Sincerely,
Gary M.
---
---
Subject: Cantilever Deck Joist Extensions
Dr. Rot,
I purchased a house in 1998 with a cantilever deck sitting atop 20 year old floor joist extensions. The joists were rotting and the estimate was $1500 just to anchor new extensions. I found your web site, ordered the products, followed the instructions, and repaired the deck for just over $400. Four years later the deck is as solid as the day I completed the repair. I flooded the joists with CPES and have seen no additional rot. The sections repaired with resin have remained solidly bonded. I recommend your products anytime I hear someone complain of a rot problem. It is good to see that you are still in business.
Tim T.
---
---
Subject: Teak Toerail/Handrail Project with CPES
Click image to enlarge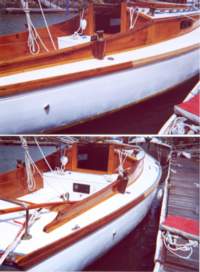 Dear Doc:
I just finished the teak toerail / handrail project with CPES as sealer and Epifanes high gloss/no sand (3 coats) with wonderful results. I applied the first coat of varnish about 4 hours after the CPES as you recommended and it took perfectly. Anyway, these photos show just the difference after the first coat of varnish. The CPES and the varnish brought the teak to a color that matches the rest of the boat. I am very pleased with CPES and my dock neighbors all want to know about it.
Thanks again … as the needs arise, I will be ordering more products from you. Great stuff-easy to work with, great results. Photos attached to this email.
Thank you again. Best regards,
Jay K.
---
---
Subject: Thanks
Dear Doc,
Thanks. I've been using your products for the past year and they are far superior to any other so-called wood rot fix or repair product on the market.
Allan T.
---
---
Subject: Thanks
Dr. Rot
I am well pleased with the results of the products that you sent me. Your suggestions on how to handle damage were most useful. I am finished with the repair and hope to never see another termite.
Thanks again!
Jim H.
---
---
Subject: Transom Rebuild on a 1974 Wellcraft
Dear Doc,
Last year, I rebuilt the transom on my 1974 Wellcraft using the advice from your site & your Layup & Laminating Epoxy. As I get down to the end of a great fishing season in the Northeast, I had to drop you a line & say thanks!!!!
When I first realized the extent of the rot in my transom, I felt like an idiot. I had just purchased the boat a few months earlier, & it was clear that it would not last. The repair went well (a little sloppy), and I added some layers of glass against the plywood inside the hull to prevent future damage.
After a full season of abuse, I can confidently declare the entire process a success. The boat is a 17 foot center console & I have been out in 3 to 4 foot seas. I pounded the hell out of it, and the repair took the abuse.
Thanks again for saving my boat.
Stephen B.
---
---
Subject: Window Wood Rot Repair
Great stuff! The wood I repaired last spring shows no signs of further rot or damage. Your product has allowed me to avoid replacing the 30+ windows in my house with moderate wood rot damage. Thanks.
---
---
Dear Doc,
Thanks so much. I used the resin and cloth and staggered it. It seems strong. I may go back tonight and fill it with the epoxy fill it. Also, I wanted to say that your product is easy to work with and well worth the price and the fact that you give great advice and are eager to help is worth hundreds more. You saved me approx. $500.00 on this project.
Thanks again.
Guy M.
---
---
Doc, I used your product over the weekend. WOW! it worked great. I am very impressed with this product! Thanks much for the great customer service too.
Joe A.
---
---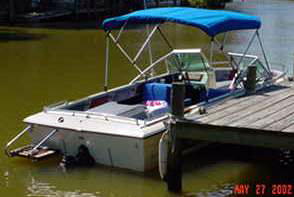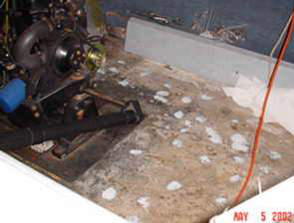 Doc
I am finished with my project. I managed to get the boat in the water on my self-imposed deadline date last Saturday at 7:30 pm. As the attached photos attest, the rot treatment project became quite involved, but the end result is near-perfection. The hard part was finding matching paint (long story). If I had to do it all over again, I would've removed the manifold & riser at the start of the project and I would've worked from the inboard side of the transom instead of outside. Doing so would've avoided the cosmetic issues of hole repair, and I would have more readily noticed the hole, which wasted about $60-$75 worth of L&L resin. In the end, I ended up removing and replacing the manifold & riser anyway. My "minor" project ended up including: rebuilt carb, new riser and manifold, rebuilt prop, new 3-rung telescoping ladder, new bimini top, newly-refurbished interior (replaced lots of trim and seat wood that had rotted), new rear seats, new fuel filters, new spark plugs, new fuel filler, new fuel hoses. It now runs strong and looks like new! I plan to install a CD/AM/FM and speakers this weekend. Thanks for all of your help and enjoy the photos.
Eric S.
---