Home > Product Line & Price List > Application Accessories
APPLICATION ACCESSORIES
Penetrating Epoxies, in most cases, can be applied with a cheap disposable natural bristle brush, or a solvent-resistant roller. Many times, however more generous or precise application of Penetrating Epoxy is required. We now have the following products available that work well in applying the Penetrating Epoxy to unique repair jobs. And for safety, we offer a very good respirator with special filters which we recommend when using any Penetrating Epoxy in an enclosed space.
We also offer some accessories for our other epoxy products, such as empty caulking tubes, sawdust and a brown coloring agent. Additionally, there is some seam tape for embedding into our coatings products to help with cracks. Then don't forget you'll need lacquer thinner, for cleaning your tools and any drips/spills before they cure!!
---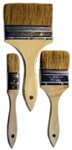 Disposable "Chip" Brushes
100% white China bristle brushes with wood handles and drilled hanging holes. Perfect for the application of Penetrating Epoxy, as well as our other Epoxy Resins. Can be cleaned for re-use with lacquer thinner.
We sell them in individually or as a set of 3: 1″, 2.5″, and 4″.
| | | |
| --- | --- | --- |
| #651 | 1″ Disposable "Chip" Brush | $0.60 |
| #654 | 2.5″ Disposable "Chip" Brush | $0.90 |
| #657 | 4″ Disposable "Chip" Brush | $1.70 |
| #660 | Disposable "Chip" Brush SET | $3.10 |
---
Penetrating Epoxy Injection Kit
We looked a long time to find a syringe that was sturdy enough to last and with a gasket that would stand up to the potent solvents in the Penetrating Epoxies that we sell. The sealer destroys the gaskets on all the normal syringes we tested. This syringe is made in France out of heavy plastic and nylon - you can throw it across the room and it won't break. The top is threaded and will unscrew for cleaning. The gasket is nylon and holds up just fine as long as you remember to rinse it and the inside of the syringe with lacquer thinner after use.
We include in the kit a 50 ml syringe, a spare gasket, five 14 gauge 1.5″ needles, 4 feet of medical-grade plastic tubing that fits snugly over the needle fixture, and some petroleum jelly to lube the inside of the syringe after cleanups. You won't find a better system than this.
This kit is intended for use with Clear Penetrating Epoxy Sealers. It is essential that after use, or during prolonged use if the plunger seems to bind, the syringe be thoroughly rinsed with lacquer thinner. The gasket and barrel should be lightly lubricated with petroleum jelly after use. If this is not done then the epoxy residue will cure and render the syringe useless.

| | | |
| --- | --- | --- |
| #107 | Penetrating Epoxy Injection Kit / 9-piece kit | $22.61 |
Parts for the kit are available at the following prices:
| | | |
| --- | --- | --- |
| #061 | Syringe with extra gasket | $14.70 |
| #062 | O-Ring Gasket | $ 2.76 |
| #063 | 14 Gauge Needles (5) | $ 2.74 |
| #065 | Plastic Tubing — Sold by the Foot | $0.75/ft. |
---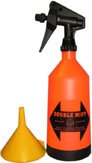 1-Liter Spray Bottle with Funnel
The sprayer is an efficient way to apply Penetrating Epoxy in overhead applications where brush or roller application is impractical. It's 1-liter double-action, chemically resistant trigger sprayer produces .02 oz. with each spray; and every stroke delivers two sprays, one when you squeeze and another when you release. Squeezing is easy — there is no finger fatigue. It has a flat bottom and sits steady when put down. We supply a plastic funnel for filling the bottle. The Penetrating Epoxy Parts A and B can be added as separate components and the bottle gently shaken to mix.
The spray head is durable and resists organic solvents, acids and disinfectants. The spray head can be adjusted to produce a spray from a fine mist to a powerful jet stream. We recommend using the coarse spray setting to reduce the amount of solvent evaporation while spraying. We have tested this with our Penetrating Epoxies and it works like a champ. Quick, short strokes seem to work the best.
Like all spray equipment, it drips during use. Vinyl gloves are recommended. It can also splash back during use, especially in the coarse spray mode, and we suggest plastic goggles be worn. You DON'T want to get it in your eyes. Finally, the organic solvent fume dispersion from Penetrating Epoxies are intensified during spraying and unless you are using the sprayer in clean, open air with good cross ventilation, we recommend the use of a cartridge respirator for organic fumes. We use and sell one by Moldex complete with cartridges in a sealed bag.
If the spray head seems to bind during use, then you must flush the unit with lacquer thinner. Just squirt an ounce or so through and then go right back to using the Penetrating Epoxy. After use it is essential that the bottle and the spray head be flushed through with lacquer thinner. Don't forget to clean the outside of the spray head, including the trigger.
| | | |
| --- | --- | --- |
| #110 | 1-Liter Spray Bottle with Funnel | $15.98 |
---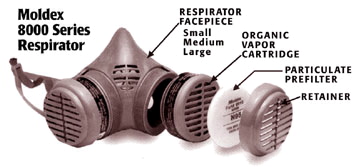 Respirator
and Cartridges
by Moldex
We tested respirators by 3M, and looked at a couple of others before deciding that, all things considered, the unit manufactured by Moldex was the best.
Comparatively, this unit allows much better visibility during use. It is lightweight and comfortable. It has a soft, extra-wide thermoplastic facepiece that maintains a seal during facial movements. An adjustable, molded head cradle allows a personalized fit. Cartridges do not interfere with eye wear. The exhalation valve is large and free-flowing.
These respirators are NIOSH and MSHA approved. We supply the assembled unit with cartridges in place for organic vapor fumes, but not for dust and particulate matter (can be purchased separately). The foil bag is sealed, but is zip lock reclosable for mask storage after opening.
If you wish to use the respirator in areas where there is dust or other airborne particulates, or in areas where you are using Elasta-Tuff™ 6000-AL-HS or ELASTUFF 120, we recommend that you also purchase the prefilters (N95) and pre-filter retainers that snap over the top of the organic vapor cartridge. Activated polyurethanes contain methyl isocyanate and OSHA recommends the prefilters as part of the air protection program for isocyanates. The prefilters will also keep the vapor cartridges from clogging with dust or other airborne particulates.
Please note: The assembled respirators come in sealed bags. Once the bags have been opened, we cannot accept them for exchange for another size. This is a legal issue having to do with our and the manufacturer's guarantee of sanitation and product quality. Think carefully about the size required. Most people will want the medium size. I (the Doc) am 5′11″, weigh 190 lbs. and the medium fits me very nicely. Young people, some ladies, and other small-faced people should consider the small size. You big folks will want the large.

| | | |
| --- | --- | --- |
| #111 | Respirator (small) with cartridge filters for organic fumes | $48.29 |
| #112 | Respirator (medium) with cartridge filters for organic fumes | $48.29 |
| #113 | Respirator (large) with cartridge filters for organic fumes | $48.29 |

Part # 114
Replacement cartridges for organic vapors and the retainer/prefilter for dust and particulates snap easily into place and all are supplied in pairs.
Organic vapor cartridges are estimated to last for 8 continuous hours of vapor exposure, after which they should be replaced. If you can smell the Penetrating Epoxy organic fumes during use, then you need new cartridges.
Normal environmental air will eventually degrade the cartridges, so the unit should be stored in it's original zip lock bag (or similar) when not in use.

Part # 115
| | | |
| --- | --- | --- |
| #114 | Cartridge Filters for Organic Fumes | $24.67 |
| #115 | Retainers with N95 (dust) Pre-filters | $15.25 |
| #116 | N95 (dust) Pre-filters ONLY | $8.79 |
---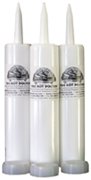 Re-useable Poly Caulking Tubes (10oz size)
For the application of Epoxy Resins with or without thickeners (e.g., sawdust, talc,or silica) into tight locations. Can also be used for a pumped-in application of our Epoxy Fillers although because of the filler's viscosity it will require at least a 3/16″ (4.8 mm) cut on the tube tip and a strong pumping action. If cleaned immediately after use with lacquer thinner, these tubes are reusable.
| | | |
| --- | --- | --- |
| #117 | Re-useable Poly Caulking Tubes kit — 3 10oz tubes, 5 plunger bases and accessories | $11.74 |
---

Disposable Epoxy Syringe 60ml
This disposable syringe will work well with the epoxy resins we sell… the tip is wide enough to allow the product to flow through it, as it is approximately ¼″ od - 5/32″ id. After use the epoxy will solidify in the syringe making it useless and the solvents in penetrating epoxies will attack the gasket and could render the syringe useless during use. It is therefore considered for one time use / disposable.
| | | |
| --- | --- | --- |
| #118 | Disposable Epoxy Syringe 60ml | $2.75 |
---

Fine Sawdust
This is very fine, really almost wood flour. For Extremely high strength we suggest using our Epoxy Resins mixed with Fine Sawdust to make putty. For additional information refer to the Sawdust Safety Data Sheet.
| | | |
| --- | --- | --- |
| #723 | Fine Sawdust — 1 pound bag (454 G) | $7.50 |
| #724 | Fine Sawdust — 5 pound bag (2.27 KG) | $14.00 |
---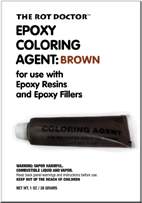 EPOXY COLORING AGENT
Description
A soft coloring paste specifically formulated for epoxies. This will color the epoxy various shades of brown, depending on the amount of coloring agent used. For use with our Epoxy Fillers, Putties, Pastes, and Resins, and fill-mixtures of our Epoxy Resin and sawdust. Very little is needed! One tube goes a long way.
An Overview
Many of our customers want to color the final epoxy fill to more or less match the tone of the surrounding wood. This can be done with dry pigments, but this specially formulated 1 oz. brown paste toner is a lot easier.
Thoroughly mix the Epoxy Fillers or Epoxy Resins/Sawdust, and then slowly add and mix small amounts of the coloring agent to achieve the desired tint. Very little of the coloring agent is required to properly tint the mixed epoxy.
Below is a rough chart of the tones we got when adding the coloring agent to (top row) our Fill-it™ Epoxy Filler and (bottom row) our Layup & Laminating™ Resin mixed with sawdust. The left samples are the product as it naturally mixes, and then the others after toning agent has been added. For additional information refer to the Epoxy Coloring Agent Safety Data Sheet.
| | | |
| --- | --- | --- |
| #108 | Epoxy Coloring Agent: Brown — 1 ounce tube | $15.96 |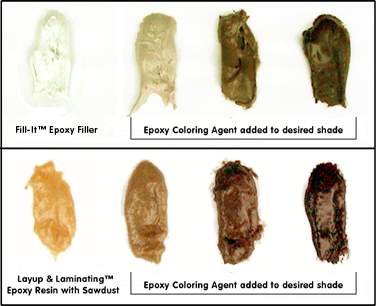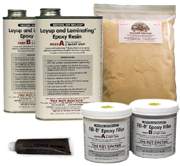 NOTES
• The epoxy material will cure to a slightly darker color than the mixed material.
• Harmful vapors: use with adequate ventilation.
• Cleanup with lacquer thinner.
---

Epoxy Clean-Up Solvent™
For cleaning uncured epoxy from surfaces and tools after use. A necessity for the injection kit, re-useable caulking tubes and sprayers.
Epoxy Clean-up Solvent is a hazardous product. Check the shipping options page for details on shipping hazardous items. For additional information refer to the Epoxy Ceanup Solvent Safety Data Sheet.
| | | |
| --- | --- | --- |
| #621 | Epoxy Clean-Up Solvent — 1 quart (946 ML) | $18.70 |
| #622 | Epoxy Clean-Up Solvent — 1 gallon (3.8 L) | $36.88 |