Home > Customer Projects > Ray's Sailboat Saga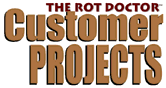 Subject: Ray's Sailboat Saga … Nearing the End!
Date: August 26, 2020
Note: all images can be seen un-cropped in larger versions by clicking on them.
As many of you know, the project to refurbish my father-in-law's Wayfarer sailboat that he built from a kit from England in the early 1960's started in earnest in the summer of 2016. It has been a long project - and I know I have been somewhat "one track minded" about it - my apologies to everyone for suffering through all my ramblings along the way!
In any case, the hull is now completely finished and is getting its boat cover made as I write this. The only thing left to refinish is the mast which is in very good shape so am not expecting much more than a good scraping and varnishing. It will hit the water next spring!
A few words of thank you … David Harder agreed to be my "consultant" on this project and his experience, insights and collaboration were a huge part of the success of the project. Also, a company called Dr Rot was extremely helpful in providing tons of advice over the years on all matters pertaining to the use of their epoxies and penetrating systems which allowed me to re-use many of the individual pieces by restoring the wood rather than making new parts. James and Allison from Eb's found specialty screws for me that I couldn't have accessed any other way.
For those of you who are more intimately acquainted with the boat, you will note that I made a couple of mods to the original design. The rear flotation chamber hatch is now almost the size of the whole deck in that area - I was tired of being a contortionist when trying to do any work in that chamber!! Also, I've added a couple of brass rub strips by the oar locks where the oars wear on the gunwales. Other than that, new construction includes the transom, the forward floatation chamber bulkhead, hull plywood and the decking plywood. The plywood had just deteriorated to the point where it was delaminating and could not be refurbished. Other than that, all the rest is original.
A few pics to document the project…
Ray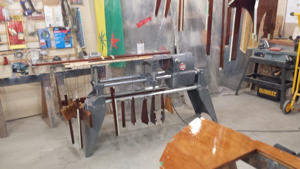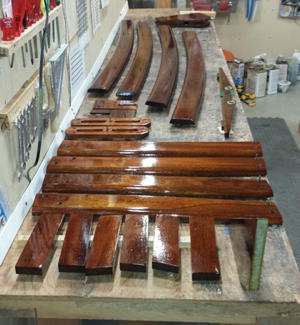 Refinishing the interior wood. First picture was taken in November 2018, the second was taken in March 2019. The installation of the interior finished in May 2019.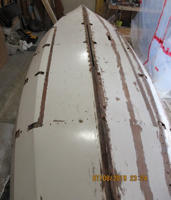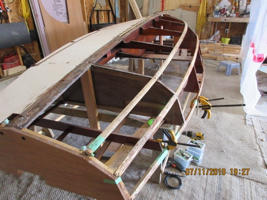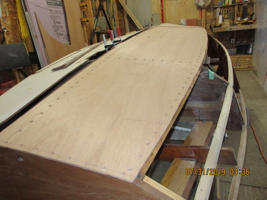 Removing the hardware and old plywood as well as replacing the plywood skin took place in July 2019, first surface coatings were put down in May 2020. The finishing touches done in June 2020.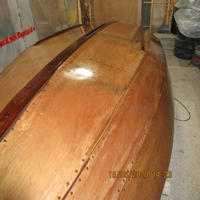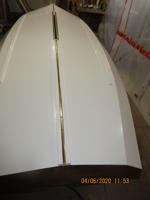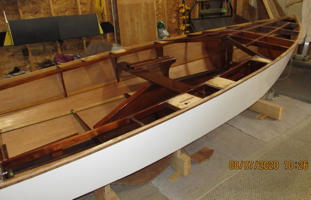 ---
Have questions?
Contact us by phone 206-364-2155 or e-mail (send us your pictures) at drrot@rotdoctor.com and we will gladly answer questions about our products or how to apply them. With 20+ years of experience and many more in the boating and construction industries, not much surprises us. We are here to help our customers solve their issues. Let us help you to not have any surprises in your repair project.
Our business hours are 6:30 AM to 5:30 PM Pacific Time, Monday–Friday.
Tech support is available over weekends and holidays 8:30 AM to 5:30 PM Pacific Time.
The Rot Doctor, Inc.
P.O. Box 30612, Seattle, WA 98113
Voice: 206.364.2155 Fax: 206.364.4744 E-mail: drrot@rotdoctor.com
The Rot Doctor, Inc. ©1997–2021. All rights reserved.
---