Home > Customer Projects > Deck Joist Repair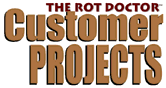 Subject: Deck Joist Repair
Date: July 2019
Note: most images can be seen in larger versions by clicking on them.
Our customer's projects cover a wide range of difficulty. In this case, the repair was quite straightforward. While the deck boards could've been repaired, the cost of replacement was less than the labor and materials to repair them. So the deck boards were discarded.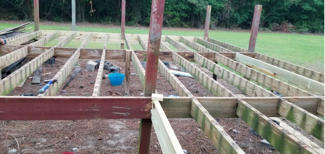 The joists were a different story. Since the damage was not very extensive, and the cost of replacement was much higher, it made more sense to repair than replace, in most cases. There were a couple of joists that ended up getting replaced. Once the deck boards, and any loose, crumbly material from the damaged joists was removed, it was a very simple repair. As the wood was dry, S-1 Clear Penetrating Epoxy Sealer was brushed on to the top of the joists, in the damaged area. Gravity helped to get the S-1 where it needed to go.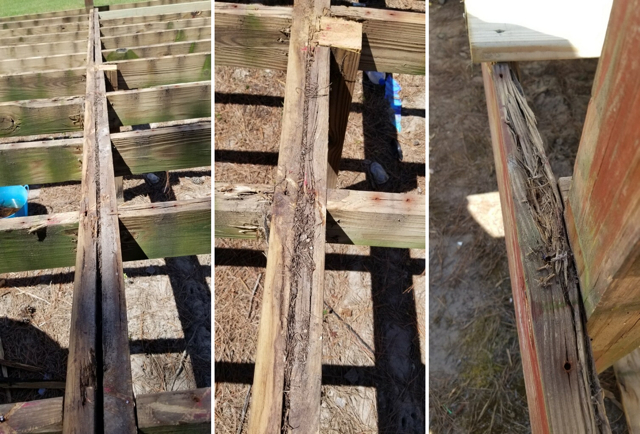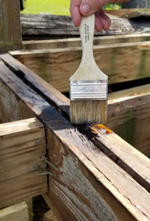 Ideally, S-1 would've been applied to the tops of all the joists, to help prevent future damage. However, this job had a tight budget, so the homeowner opted to fix only the damaged areas.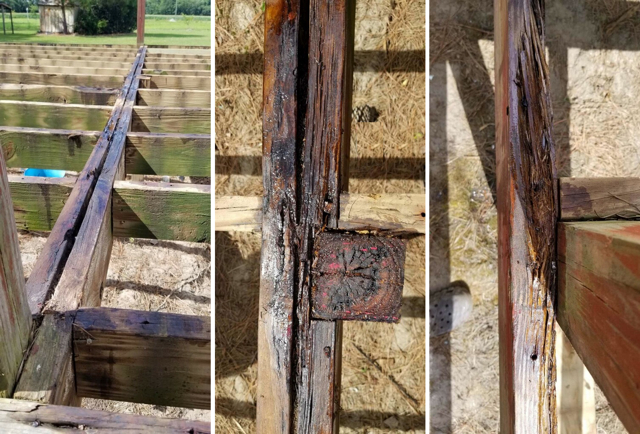 Once the S-1 Sealer had a chance to dry for several days, Sculpwood Epoxy Paste was knifed down into the damaged areas. This product has some body, and can stand up on vertical applications up to about 6 millimeters (¼″) at a time, but is still easy to push into narrow cracks.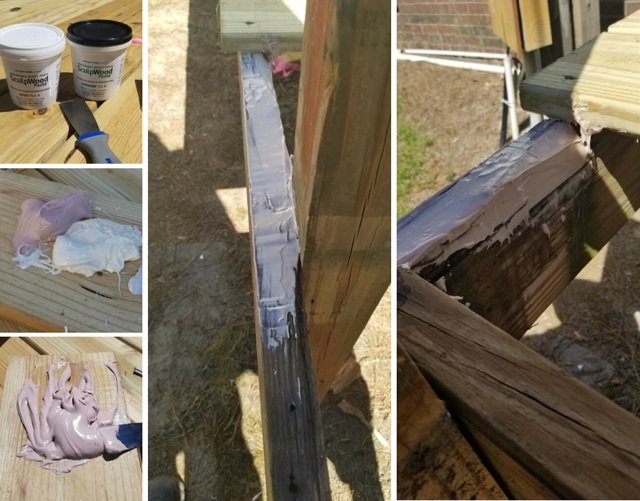 After the Sculpwood Paste had 1–2 days to cure, the new deck boards could be secured. Since epoxy fillers are quite strong, pilot holes should be drilled, whether screws or nails are used, if the epoxy is thick in the repaired area.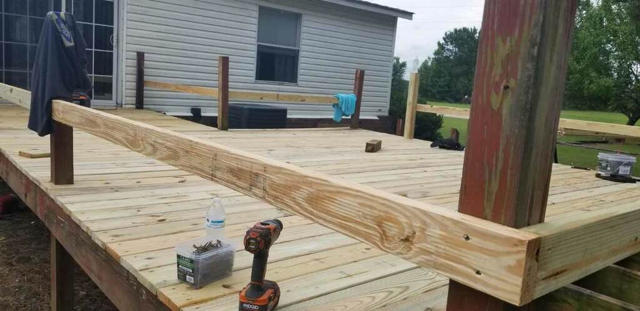 ---
Have questions?
Contact us by phone 206-364-2155 or e-mail (send us your pictures) at drrot@rotdoctor.com and we will gladly answer questions about our products or how to apply them. With 20+ years of experience and many more in the boating and construction industries, not much surprises us. We are here to help our customers solve their issues. Let us help you to not have any surprises in your repair project.
Our business hours are 6:30 AM to 5:30 PM Pacific Time, Monday–Friday.
Tech support is available over weekends and holidays 8:30 AM to 5:30 PM Pacific Time.
The Rot Doctor, Inc.
P.O. Box 30612, Seattle, WA 98113
Voice: 206.364.2155 Fax: 206.364.4744 E-mail: drrot@rotdoctor.com
The Rot Doctor, Inc. ©1997–2021. All rights reserved.
---