Home > Customer Projects > Boat Deck Repair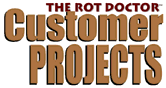 Subject: Boat Deck Repair
Date: November 2006
Note: All images can be seen in a larger version by clicking on them.
Soft spots on decks almost always mean a deteriorated deck core, and one of our customers kindly sent us these pictures of a deck repair. He considered repairing it from underneath, but considering the problems of working against gravity he decided instead to repair from above and then overlay the old decking with new CPES*-treated plywood. He also used our Fill-It Epoxy Filler* and our Layup & Laminating Resin*.
UPDATE: July 2011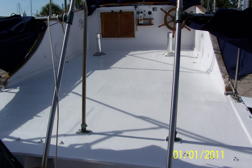 I am the customer who did the deck repair pictured on your website on the Marine Trader Flybridge. I would like to say it has been 5 years since the repair and it's still in great shape. All I do is re-coat the top every couple of years to keep it looking good which I am going to order the Rhino top to do now. I attached a picture where I painted the top with a porch paint in January but am not pleased with the paint so I am back to the Rhino!
Thanks for your products.
Bob H
* These products are unavailable, we are selling comparable products that will perform these same tasks. Feel free to contact us if you need assistance with which products to use.
---
Have questions?
Contact us by phone 206-364-2155 or e-mail (send us your pictures) at drrot@rotdoctor.com and we will gladly answer questions about our products or how to apply them. With 20+ years of experience and many more in the boating and construction industries, not much surprises us. We are here to help our customers solve their issues. Let us help you to not have any surprises in your repair project.
Our business hours are 6:30 AM to 5:30 PM Pacific Time, Monday–Friday.
Tech support is available over weekends and holidays 8:30 AM to 5:30 PM Pacific Time.
The Rot Doctor, Inc.
P.O. Box 30612, Seattle, WA 98113
Voice: 206.364.2155 Fax: 206.364.4744 E-mail: drrot@rotdoctor.com
The Rot Doctor, Inc. ©1997–2021. All rights reserved.
---