Home > Customer Projects > Dory Repair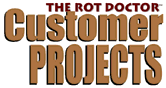 Subject: Dory Repair
Date: July 2009
Note: All images can be seen in a larger version by clicking on them.
Doc,
A note of thanks to you for your advice regarding use of CPES* to repair my dory. The product worked extremely well and I am happy to report that the leaks which had plagued the boat are now a thing of the past.
I removed the rub strips and then used a heat gun to remove the varnish underneath the rub strips and down to the top of the chine batten. I also peeled away any loose caulk which had been used to bed the chine batten. Once bare wood was exposed I brushed on 3 coats of CPES* making sure the product seeped into any open crevices between the hull and the chine batten. I also brushed on 3 coats of CPES* along the interior chine joint and along along both sides of the chine joint (hull and bottom). There were several significant gaps between the exterior on the hull and the chine batten and these areas corresponded to the discolored wood seem along the interior chine joint. Once the CPES* had cured I filled these larger gaps with thickened West Systems (sorry but it was available locally). I waited for about 20 days before varnishing the exterior beneath the rub strips and then replaced them.
The attached photos show repairs in progress.
With the repairs complete my wife and I spent 4 days floating and fishing the Madison river and the only water that entered the boat was from our water loving dog.
Thanks again for a great product!
Ed
* This product is unavailable, we are selling a comparable product that will perform these same tasks. Feel free to contact us if you need assistance with which products to use.
---
Have questions?
Contact us by phone 206-364-2155 or e-mail (send us your pictures) at drrot@rotdoctor.com and we will gladly answer questions about our products or how to apply them. With 20+ years of experience and many more in the boating and construction industries, not much surprises us. We are here to help our customers solve their issues. Let us help you to not have any surprises in your repair project.
Our business hours are 6:30 AM to 5:30 PM Pacific Time, Monday–Friday.
Tech support is available over weekends and holidays 8:30 AM to 5:30 PM Pacific Time.
The Rot Doctor, Inc.
P.O. Box 30612, Seattle, WA 98113
Voice: 206.364.2155 Fax: 206.364.4744 E-mail: drrot@rotdoctor.com
The Rot Doctor, Inc. ©1997–2021. All rights reserved.
---