Home > Customer Projects > Rebuilding a Floor Beam/Wooden House Foundation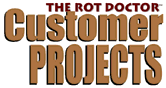 Subject: Rebuilding a Floor Beam/Wooden House Foundation
A good example of how epoxies can be used as a valuable adjunct in rebuilding a wooden house foundation.
Date: May 17, 2006
Note: All images can be seen in a larger version by clicking on them.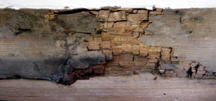 1. Floor beam untreated and punky.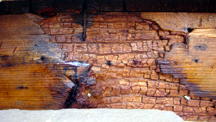 2. Floor beam treated with CPES* and now solid.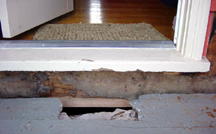 3. Floor beam area exposed but untreated.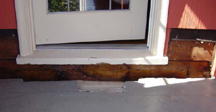 4. Floor beam exposed area cleared and treated with CPES*.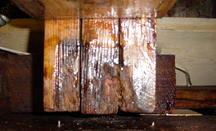 5. CPES* treated central floor beam ends.
To: drrot@rotdoctor.com
I wanted to take the time to pass my delight in your product.
We found some major rot in the main front floor beam in our house and it looked like we had a very expensive repair at hand. The beam would need to be removed whilst supporting existing floor and replacing with new beam.
What I hoped for was a product to stop the rot, and allow me to lay a new structure along side of the old rotten structure and significantly reducing the repair. Obviously laying a new beam against the rotten beam without treating the rot would have left me in the same situation a few years down the track if the rot was to continue. We had to cut away a significant portion of the pony wall structure as this was simply dust held in place by the mere fact no-one had touched it. You can see from the pictures we cut back until the studs were treatable, treated the ends of the studs and built a new pony wall against the old treated structure. The main floor beam was also affected at the very end and untreated would have meant the full removal of the central floor beam, (not a small job).
The CPES* product was easy to use and did what you claimed it would. The soft spongy rotten area is now hard. A screwdriver would push into the surface before. Now it cannot penetrate the surface.
You have saved me a considerable amount of time and money. Great product easy ordering, quick delivery easy to use and does what it claims to.
The before and after pics are attached.
I will highly recommend to anyone who would like to know how your product works.
Many many thanks,
Matt
Pictures 6-9. The foundation pony wall being rebuilt.
* These products are unavailable, we are selling comparable products that will perform these same tasks. Feel free to contact us if you need assistance with which products to use.
---
Have questions?
Contact us by phone 206-364-2155 or e-mail (send us your pictures) at drrot@rotdoctor.com and we will gladly answer questions about our products or how to apply them. With 20+ years of experience and many more in the boating and construction industries, not much surprises us. We are here to help our customers solve their issues. Let us help you to not have any surprises in your repair project.
Our business hours are 6:30 AM to 5:30 PM Pacific Time, Monday–Friday.
Tech support is available over weekends and holidays 8:30 AM to 5:30 PM Pacific Time.
The Rot Doctor, Inc.
P.O. Box 30612, Seattle, WA 98113
Voice: 206.364.2155 Fax: 206.364.4744 E-mail: drrot@rotdoctor.com
The Rot Doctor, Inc. ©1997–2021. All rights reserved.
---