Home > Customer Projects > Gunwale Repair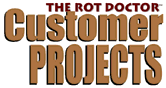 Subject: Gunwale Repair
Date: June 2007
Note: All images can be seen in a larger version by clicking on them.
Hello There Gang,
I am nearly finished with the boat getting ready to launch likely this weekend or close enough. You have been so very helpful with my newness and questions regarding thorough repairs, I thought I might send you a few pictures of my FIRST time repair using the incredible Rot Doctor products.
This is a 1980 Silverton facing the same problems anyone who has ever improperly installed rod holders, screws or seat posts on their boat. I was able to cut the gunwales out and removed the MUD-LIKE old balsa, replace it with new balsa and epoxy the entire patch back together, fair and re-coat with Uniflex 255 Aliphatic*… Up close it looks like a new surface professionally installed. Locally, I can see some others facing similar repairs hoping I can show them what to do… I used CPES™* as a base sealer, 2 coats of Uniflex* using an open cell foam roller sleeve. That made the paint bumpy and looks like a new anti-skid surface.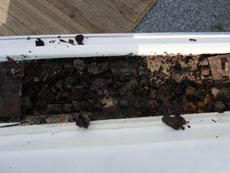 Fiberglass deck removed, revealing balsa core turned to "mud".
New CPES™* treated balsa core installed, deck re-installed, sealed with CPES™* and Fill-It™ Epoxy Filler*, and sanded smooth.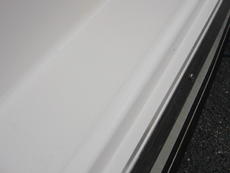 Deck coated with two applications of Uniflex 255 Aliphatic*, the last coat applied with open cell foam roller to give a stippled non-skid surface.
* These products are unavailable, we are selling comparable products that will perform these same tasks. Feel free to contact us if you need assistance with which products to use.
---
Have questions?
Contact us by phone 206-364-2155 or e-mail (send us your pictures) at drrot@rotdoctor.com and we will gladly answer questions about our products or how to apply them. With 20+ years of experience and many more in the boating and construction industries, not much surprises us. We are here to help our customers solve their issues. Let us help you to not have any surprises in your repair project.
Our business hours are 6:30 AM to 5:30 PM Pacific Time, Monday–Friday.
Tech support is available over weekends and holidays 8:30 AM to 5:30 PM Pacific Time.
The Rot Doctor, Inc.
P.O. Box 30612, Seattle, WA 98113
Voice: 206.364.2155 Fax: 206.364.4744 E-mail: drrot@rotdoctor.com
The Rot Doctor, Inc. ©1997–2021. All rights reserved.
---