Subject: Porch Pole Repair
Date: September, 2006
Our customer reports:
I just wanted to thank you again for your product, for your on-line help and for your prompt delivery of the product.
I have attached a few photos of my project (rotted porch poles). I attained amazing results.
Thanks again,
John
The pictures tell the story. Products used were CPES (Clear Penetrating Epoxy Sealer) and Fill-It Epoxy Filler.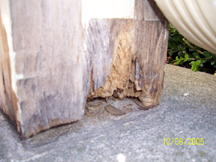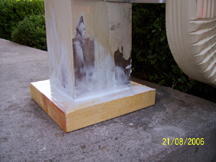 Click on photos to see larger.