Home > Customer Projects > Window Sill Repair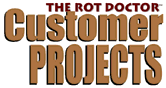 Subject: Window Sill Repair
Date: March, 2007
Note: all images can be seen in larger versions by clicking on them.
Hello from a Happy Customer!
I thought you might like these 6 shots of a window sill repaired with your products. The ends had become badly eaten by wood termites because of a damp flower box that had been adjacent to the sill. It would have been very difficult to have removed the sill because the window is fixed and so epoxy was the answer. The finish is deliberately less than perfect so as to match the original which was put in back in 1950!
There are three shots of each end - before, midway (after two layers of epoxy) and finished and painted. Good as new!
Kind regards -
David C.
---
Have questions?
Contact us by phone 206-364-2155 or e-mail (send us your pictures) at drrot@rotdoctor.com and we will gladly answer questions about our products or how to apply them. With 20+ years of experience and many more in the boating and construction industries, not much surprises us. We are here to help our customers solve their issues. Let us help you to not have any surprises in your repair project.
Our business hours are 6:30 AM to 5:30 PM Pacific Time, Monday–Friday.
Tech support is available over weekends and holidays 8:30 AM to 5:30 PM Pacific Time.
The Rot Doctor, Inc.
P.O. Box 30612, Seattle, WA 98113
Voice: 206.364.2155 Fax: 206.364.4744 E-mail: drrot@rotdoctor.com
The Rot Doctor, Inc. ©1997–2021. All rights reserved.
---