Sanzone: A Brief History and Refit Story
By Paul A. SanSo
Sanzone: Post Marine 37 Sportfisher
Originally Ordered and Built - 1961
Most Recent Refit & Launch - 1998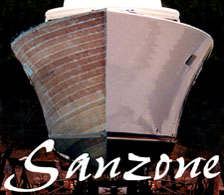 I would like to think that many of you are like myself. I appreciate things of character, strength and beauty. I don't always see these at first, but they come to mind in idle moments and prompt me to further investigations.
This story may bring to mind a moment when you first viewed an interesting but tattered or worn old boat and sparked a vision of what she once was, or more importantly, what she could be again. I hope this story may at least explain or (if I may be so bold) inspire one to "go for it". It may turn out more than you bargained for in work and frustrations, but I can attest to it being worth the time. With the modern advances of wood preservation products, some help and guidance from friends and others like us who care about the character, strength and beauty of an old wooden boat, it is possible to have and enjoy that vision. That dream you have had haunting you can be a true reality without putting you in the poor house.
I feel it necessary to make some comments about this article. I am not a writer or profess to be a great boat builder. I have a determined and long-lived dream of owning a boat that I can be proud of, and as the story suggests, a desire to complete a dream shared and handed down to me by my father. I am not affiliated commercially with the producers of this site. This is being done because I have used and appreciate the quality of the products used to bring Sanzone back to sound and operational condition, and to express thanks for coaching and advice provided by and through The Rot Doctor site during this project. With that being said I can now more comfortably go on.
I grew up on the Bay near San Francisco and have always enjoyed being near the water. With a father retired from the Navy and an avid fisherman, I enjoyed the excitement and fun of fishing since I was 3 feet tall. Every winter when the San Francisco Boat Show would come around we went, as fathers and sons do, to drool and to dream. I can attribute in a way the purchase and restoration of this Post Marine Sportfisher (named Sanzone) to the memories and dreams inspired during those days as being also my father's dreams and visions. They took life within me as I became a man. This article and the motivation that carried me through the frustrations of restoring this boat are dedicated to my father, to him and to his dreams.
I have been searching for years, and dreaming for years of owning a powerful and functional boat. Scanning the newspapers on Sundays, I often walked the docks on a weekend outing and kept a watchful eye on trends and the availability of boats that attracted me. Life happens rapidly and things speed up and time runs short, as some of you may have noticed, and I often felt that my dream boat was going to remain just that: a dream. But I never give up!
I was walking down a covered dock one summer day with a business associate, who was showing me his Chris Craft, a fiberglass Commander of 42 feet, that was being offered for sale. We talked and sea-trialed over the next couple weeks and never really came to an agreeable price. But the weather was so nice and the sea air was calling me again, so the looking and searching went on. Several times we met on that dock, several times I walked and looked at the other boats on that dock while we were negotiating over the Commander.
I kept passing an interesting older boat. She had a proud flared bow and deep lines that were strong and sleek. Although tired and weary of finish, her lines and heritage showed through.
A teak transom and cockpit decks were worn and needed refinishing. The paint was chipped here and there, with some attempts at touch ups that didn't quite match. The flybridge canvas was faded, snaps were worn, Plexiglass replacements on some cabin windows were scratched and yellowed with age. I couldn't help but wonder how old she was, if she could be purchased and for how much, and if it was worth the effort to bring her back. The thought of taking an old boat and making her right again appealed to me, but was a frightening proposition.
I was drawn to more research about this old boat that had caught my eye and attention. I thought about her at work and home…wondering if I could take on such a project. I researched the manufacturer through web sites on the Internet and asking around the docks for information and any direct knowledge of her history. Turns out she was built in 1961, a 37 foot mahogany and teak Sportfisher, twin Chrysler engines, with many amenities. I was interested; she demanded further attention.
She was built by the Post Marine Company, which I found out was still in business. Post was known for building strong, quality wooden boats and specializes even today in glass sportfishers of similar appearance. Post boats were never mass produced, but were semi or custom built to owners specific needs and preferences and have been produced since 1958. Sanzone was commissioned for a customer named Campbell here in California.
She had a special cabin configuration that was different from the standard 37 foot layout. The customer chose the types of finishes and trim, even the color of stains used prior to or with varnishes. I was fortunate enough to acquire the original order forms and build specs from the helpful people at Post Marine Company in Mays Landing, New Jersey. My thanks to Susan and the others at their office who dug through the archived files to assist me in assembling as much of her history as I could.
I discovered there were two previous owners of this boat. The man I purchased her from had been the owner for the past 12 years. He bought her from the original owner while he was a city employee in the town I live in, and she has occupied the same covered berth for all but a couple of those years. I might add that she still occupies that berth as I have grandfathered into the lease.
It is my understanding that she was refastened 6 or 8 years ago, and a new transom, knees and other structural maintenance had been done at that time. Not much had been done to her since. She had held up well under the protection of the covered berth and watchful eye of the previous owner. She had not been used much over the past four or five years, Carl told me when we finally met. He had been a partner in this boat with a friend for a while, and subsequently became the sole owner.
Carl had used her for fishing and cruising in the San Francisco Bay and Sacramento River delta. Although he seemed to have that far away look in his eye when he spoke about selling her, it also appeared he thought it might be time to do so. His life and home had changed, he had retired from work and moved to the northeast away from the harbor. Much further up river, I was told, where he had another boat, smaller, but adequate for his needs and lifestyle there. We met a few times and spoke over the next couple weeks, going over the boat's mechanical systems and learning more about her. We discussed price a few times, he being a little high, and I being a little low. We continued to talk.
She needed work and we had trouble getting both engines to run. There were many areas of her that needed upgrading. We finally settled on a price that was acceptable to us both, with the condition that the final decision would be made after a haul out and inspection. This inspection, for those of you who have the same affliction as I do, I would highly recommend. Some of these old beauties are single planked, some are double, some have strong and long-lasting frames and fastenings, with quality planking, but others don't. To take on a project of this type, without knowing what you're buying could, and often does, end up a disaster.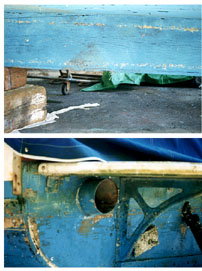 I would definitely suggest that you spend the few hundred dollars for a haul-out and quality marine survey. It may save you thousands in the end. Know what you're buying. Learn about the manufacturer, the boat's type of construction and materials before you make a final choice. If all is well, or within reason and your bank account, you will find that you can purchase this boat for 10 to 20% of what a new one similarly equipped would cost. In my case with Sanzone I can honestly say a similar boat of this quality and size would be more than 10 times what I have into her.
By doing the work yourself or with a little professional assistance, the use of quality materials, a sharp eye and some elbow grease you can be reasonably safe in your investment, know your boat and be reasonably sure of the resale value. You'll have a sound and beautiful boat, too few of which are built these days.
During the survey and research on the Post I discovered it was the only one made in 1961 with mahogany planking on the hull. She was listed in the boat buyers guide with a current market value price range, of which I paid less than 50%. She is a carvel planked, 1″ thick mahogany fastened to oak frames on 12″ centers. She has a massive keel plank of treated hardwood. Her interior is completely trimmed in old growth mahogany, beautifully crafted with doors, trim, cabinets and cabinet sides of solid mahogany. The aft salon bulkhead, rear sliding door, cockpit deck and hatches are of solid teak. The transom, and cap rail surrounding the deck is also solid teak.
The survey came back well enough, hull and structure sound, some work here and there, but pretty much in decent condition. She was equipped with many amenities of the day, and some upgrades: Two way refrigerator freezer, 30 amp dock charger, 4K genset, auto pilot, loran, 1 depth sounder and fathometer, VHF radio, microwave, stainless bow rails and rub rails. Sanzone is powered by twin Chrysler big blocks (440s), Borg Warner transmissions (1.5:1), monel fuel and water tanks. She was quite a boat for her day.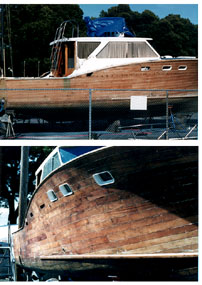 A replacement value on this boat today would be in the 100's of thousands of dollars, yet I am enjoying her today for a small fraction of that price. She may have a few years on her, but she is strong, beautiful and functional. I am thankful for the wood preservation products that have helped preserve this old boat. The Clear Penetrating Epoxy Sealer™ (CPES*), Layup and Laminating Epoxy Resin™*, 2 part Fill-It Epoxy Filler™*, and Tropical Hardwood Epoxy Adhesive™* have been used successfully in most phases of this restoration project.
The looks of admiration from passing boaters out on the bay and the hi-ya! waves from the old timers always prompt a salute or a tip of the hat and a smile of pride. Ah! It's well worth the effort.
After purchasing Sanzone, I had her placed in a corner of the yard near a power pole and water. This was the beginning of a four month stay. I decided to do this restoration with two goals: To do the best job possible without cutting corners on quality, and to stay within a budget. The former was the driving force and often conflicted with the reality of the latter. There can be a reasonable balance between the two, and both can be accomplished.
With the help of a hired hand and a retired friend we started out by stripping her off all the exterior hardware and fixtures. We watched how screws came out and hardware came off, alerting us to areas of soft wood and areas of wood needing replacing or penetrating with CPES penetrating epoxy. The sides of the bridge were pretty well shot so they were removed as well. Anywhere we found slight softness of wood it was treated with CPES. The hull had several layers of different types of paint. From the chine down there was bottom paint to be removed and some plank seams in need of caulking and filling.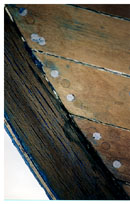 Once all the areas of wood repair were identified, we stripped the entire hull of all paint, both above and below the waterline. All seams were reefed of old caulk, cotton and seam compound. This produced some sore arms. The quality of the hull materials just shined. She could have been varnished; the hull wood was pretty enough to pull it off.
Once the hull was bare and all seams clean and ready for new caulk we checked and tightened or replaced any fasteners that needed attention. The wood hull was without many soft spots, at least none that were structurally damaging. This moved us to the next stage.
I worked with the CPES* (Clear Penetrating Epoxy Sealer™) on some new wood being prepared for the bridge and cabin sides and was very pleased with the results. I felt it was worthwhile to apply CPES* to the entire hull prior to caulking and painting. I knew from talking to others and reading positive reports about this mixture that it would insure longevity of the wood and prep the surface for a superior bond for the adhesive caulk to the seams. I also knew that this process would only need doing once, and that it would solidify the grain in the wood hull.
We suited up one Saturday morning, and three of us applied CPES* to the entire hull. Eight gallons was all she would drink up, but drink she did. It only took a few hours to apply and now I am comfortable with the knowledge that the hull is sound and tight again. The tightness of the grain and solidity of the hull was noticeable after the CPES* cured. Finish sanding prior to paint coats was against a harder surface than plain bare wood.
It's important to mention that this boat was reasonably sound at the start of this project, and all wood that we judged in very poor condition was replaced. There are several areas in which the application of epoxy products saved major dollars and time which otherwise could have quickly doubled the actual restoration costs.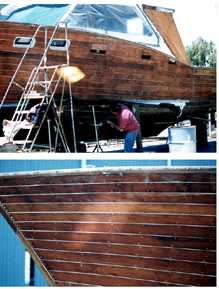 The caulking was done by a friend and boatman who had experience. I had no clue about the proper application of caulking, and even after being shown and hammering in some seams found its a practiced art to be taken seriously. Jerry did a fine job applying new cotton to all the under water seams and we covered it all over with a high quality marine caulk.
The adhesion was very good when applying caulk over hull materials that had been treated with CPES*. Above the waterline we used 3M 5200 sealant and 3M 4200 sealant below the waterline over the new seams.
I decided the hull would finish smooth rather than with revealed seams between planks. To rout the seams again to bring plank definition back would have meant another few weeks added to the project and I liked the idea of a smooth sided hull. We fared the seams using the 2-part Fill-It Epoxy Filler* as a faring compound. It was mixed and applied to the seams with good results. It took some time with re-application and sanding to get her as smooth as possible, but the results are good and this hull is well sealed and strengthened. As you can see by the after-paint photos, it was a worthwhile step.

The paint process was a welcome final step to the exterior restoration. We had been working between spring rainstorms in the beginning and dodging the hot sun at the end of the yard stay. The priming process gave me a glimpse of the light at the end of the tunnel. I had chosen a polyurethane paint as my topcoat, therefore the prime coats were several layers of epoxy primer. To further enhance the final finish we used a high build for 2 coats, sanding and fairing between, then 2 applications of standard base primer (epoxy) prior to top coats. Three topcoats of Awl Grip Oyster White were applied after much fairing and final sanding of the prime coats. The final finish is superb, with a high gloss and tough and scuff resistant. After adding a Claret boot stripe, two coats of bottom paint were rolled on prior to launch.
Several points should be made at this juncture. The first being the importance of a game plan and identification of areas that need to be addressed on a project of this type. If you don't have the luxury of free yard space, which I did not, or ready access to marine supplies and parts dealers, your project can be drawn out unnecessarily. Those yard bills can add up fast. I also recommend doing some phone work and asking others in your area about locations of supply houses and marine lumber supply. Try to decide from your inspections and survey what materials you'll need and start lining things up in advance. With contacts already established your progress will move along much more quickly.
Several areas of restoration were yet to be accomplished, interior work and cockpit and finish work to the bridge. Moldings and painting inside could all wait till after she was back in the water. Saving more yard time and taking the heat off the bills were a major motivation. As of this writing that work is still in progress, a couple days here and there to accomplish one task one area at a time. As much as I would love to devote all my time to the completion of this project I have a job and other responsibilities that prevent full time work on Sanzone.
What is rewarding is that now she is operational and I can postpone a work day now and then to go fishing or for a cruise on a nice day. The cosmetic upgrades and restorations may take a few more months at this pace, but I trust her now, and the work that was done has provided me with a knowledge of this boat from stem to stern.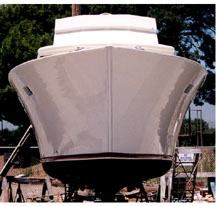 It's important that I mention and thank the many friends and co-workers who participated in the work that was done and in some areas is still ongoing. A friend and co-worker, Joe Holcomb who is retired from Mare Island ship yard spent many a dusty and sore day with us sanding and working where ever he could to help. His son, Jim, is a mechanic I work with and he too participated in a lot of the mechanical upgrades and to this day assists in keeping the engines and transmission operating well. Jerry, a retired commercial fisherman did all the caulking and seam repairs with me and spent many days fairing and sanding the hull. His help was indispensable. Mary and Nicole participated in various ways, some sanding and cleaning and masking (several times over I might add) between coats of paint, and are still participating in the completion of the interior. I also thank my son Matt for jumping in when he could or an extra hand was needed. All in all, this was a project of contribution and cooperation from many. I thank them all.
I think of my Dad, and envision him at the helm, his pipe clenched on the right side of his mouth with a wisp of fragrant tobacco smoke trailing past his captain's hat, pointing out the lay of the water and speaking over the engines with authority and conviction of how we will catch fish that day. Maybe, if I'm lucky, I'll hear another war story of a day long ago when he was a young and tough sailor, challenging the sea. After a moment, I look aside and see my son Matthew looking up at me with a glimmer in his eye, asking me some of the same questions that I asked when I was his age. My father's favorite pole hangs in the teak rack overhead, his tackle box is on the deck awaiting another day of stripers, and maybe, if we're lucky, a sturgeon will finds its way to our bait.
Life is good, history is worth saving, fathers and sons should do these things. Don't be afraid of taking on a dream. The rewards are greater than the effort.
My father is 87 years old, has Alzheimers and isn't who he used to be. But his nurse has promised that she will accompany us on a voyage. I hope so…it will complete my obligation to follow through with our dream.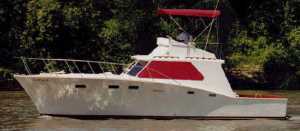 As I write, the San Francisco Sports and Boat Show is one week away. (I can't believe its 1999!) It was 1964 when I first went with my Dad. This year will be the first time Matt attends with me.
I wonder what trouble this will start …
Thanks for listening … Paul
---
FOOTNOTES:
Sadly we would like to mention the passing on of Henry SanSo, to whom this project was motivated by and dedicated to. He will be buried at sea this July and take his final boat ride on the Sanzone. May he rest in peace and we all will dearly miss him.
I would like to personally thank Jim (Dr.Rot) for his belief that this boat and my story was worthy of posting on his site. I found postings on the Rot Doctor site both valuable and realistic. I also sent several e-mails with questions that he promptly answered. I found his love of old wooden boats and willingness to share his opinions and coaching very refreshing and honest. I have created a screen name for mail regarding this project and will, if I can, assist in answering reader's questions.
E-Mail: psanso@sbcglobal.net