Demonstration of the flexibility of cured Layup & Laminating Epoxy Resin.


Layup & Laminating Epoxy Resin mixed with sawdust into a dense putty which is applied with a putty knife.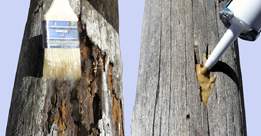 Above left: L & L Resin applied (after CPES-application) to consolidate wood in a rotten log. Above right: a slurry mix of L & L Resin and sawdust is pumped into a deep crevice in a log with our re-usable poly caulking tube (10 oz size).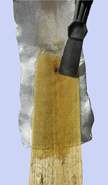 L & L Resin is used to apply fiberglass cloth to a flat wood surface.

Layup & Laminating™ Resin
Layup & Laminating™ Resin is a honey-thick epoxy resin made from wood-derived components. It is a pure resin, without additives, and it retains a slight degree of flexibility when cured, similar to that of wood. To the right is a picture of a 1/16" thick sheet of fully cured Layup & Laminating Resin being bent without breaking. Other epoxies will shatter under similar stresses. Layup & Laminating Resin cures without "blushing" or emitting any other type of oily residue.
Layup & Laminating Resin is used in wood restoration and repair in two ways: 1) As a pourable/brushable thick laminate to reinforce deteriorated wood previously treated with CPES™, and 2) as the mixing base for the addition of wood flour or sawdust or talc to make an epoxy filler of any desired density. This mix, depending on density, can be poured into place, pumped in place through a caulking tube, or when sufficiently thick bladed in place with a putty knife.
Applied to the surface of moderately rotted wood that has been treated with CPES™, the Layup & Laminating Resin will settle into the grooves and cracks and form a smoother base for the application of the Fill-It Epoxy Filler or a denser mixture of the L & L Resin and sawdust. Structural strength is increased significantly.
Where the interior of the deteriorated wood is convoluted and difficult to fill with a paste filler (such as with termite damage or deteriorated fiberglass deck cores), Layup & Laminating Resin can be poured or caulk-gun-pumped into cavities. If necessary, the wood can be tightly wrapped with polyethylene (kitchen wrap) film to hold the resin in place, and then the film is removed when the resin has cured. To increase density, wood flour or sawdust can be added to make a thicker fill, which can vary from the pourable (for settling into place), pumpable with a caulking gun, to a thick, packable mix. It cures very hard in about 24 hours. It is difficult to sand once cured so the finished surface should be as formed and smooth as possible.
Layup & Laminating Resin is an excellent bonding agent for soft woods, such as plywood, pine, fir. The resin penetrates the wood surface and produces an exceptionally strong bond. Because the resins are derived from natural wood sources, it retains a flexibility comparable to wood and will not crack or shatter under compression or stress loads. The Layup & Laminating Resin is spread to about 1/16" on both surfaces and the surfaces pressed together firmly (but not tightly) for 24 hours.
Layup & Laminating Resin is also commonly used for fiberglass layup. It is simple to mix (no measuring pumps) and contains a special "wetting agent" to facilitate the absorption of the resin into the fiberglass mesh. The resin is applied to the surface and the cloth is pressed into the resin. The glass cloth will go completely transparent in a few minutes as the wetting agent does its job. Layup & Laminating Resin does not "blush", and sanding or wipe-down is not required between resin applications.
Layup & Laminating Resin is mixed 1:1 by volume, and is forgiving of minor mix errors. Mixing by weight may be done at 10 parts "A" to 12 parts "B" by weight. For best results mix in one container, transfer to a second container and mix again. Allow to sit for 10 minutes before use. Full cure will be obtained down to 28 F. For additional information on Layup & Laminating Resin, click here.