NOTE: Click any photo to see larger version of each.
We Plug a Hole
By Dr. Rot
Lest anyone think we are jamming epoxy into rotten holes for the sole purpose of promoting our products, I ask you to take a look at the picture to the right showing the big hole in DELTA's radius transom. Messy looking, isn't it? The top picture is the raw hole; the wood in the second picture is shiny because it's been saturated in Clear Penetrating Epoxy Sealer™ (CPES)™ and then over-coated with one application of Layup & Laminating Resin. We'll get back to that in a minute. When we first ripped off the overlying wood it looked plenty ugly. Did we know it was there? Not really, but considering the condition of the old rub rail we tore away, we were not a bit surprised.
You can see that the hole is about 5 inches deep in some places and it's still not through the hull. Why? Because the radius stern of this old boat is built out of a series of cross-laid and over-laid beams (stacked like bricks) about 8" square that have simply been ground off on the stern to give the radius. Strong as hell but too complicated to just go in and replace that one beam - fastenings removed, bottom planks torn loose, and God knows what else once you get into it. A nice little project for a shipwright, an open wallet situation for the owner. No thanks, not for us.
An alternative, I suppose, would be to pull the fastenings, prize loose the 2" bottom planks, go in there with some grinders and grind away all the bad wood to a flat surface, and then put back in a new piece of wood or laminated wood strips glued and screwed into position. Refasten. Might work, depending on what you hit or tore loose during the grinding process. With a boat built in 1889 every repair is an adventure. What you see in the pictures is probably original: Iron nails to fasten the planks, wood drifts for tying the beams together.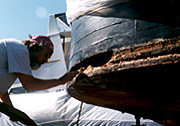 But why bother with wood reconstruction, the time and the expenses? Aesthetics? All right, I'll concede that. There is nothing beautiful or refined about our solution. But then there's nothing beautiful or refined about us either (that is me myself there with the ratty beard and the scruffy bandana). For the purity of wood and the spiritual preservation of a classic old boat? Very nice, but my wallet is empty, and I already owe the IRS, the dentist, several medical establishments, VISA, Mastercard.... This old girl would have been dead a long time ago if spiritual purity had been the criteria for repair efforts. Naw, she's like the grizzled old man shuffling along the street with a pacemaker, hearing aids and his blood loaded with beta blockers and Coumadin. Still alive, but not too pure.