---
Rotten'Zine
---
Rotten'Zine a division of The Rot Doctor, Inc. All rights reserved.
Table of Contents
Drying Out Deck Core with a Clever Shop Vac Attachment
By Jim W.
April 7, 2002
Dear Doc,
Enclosed are the pictures of the deck vacuuming manifold I made to speed up the drying phase of the foredeck repair on the 38 Ocean Alexander trawler that we've been e-mailing back and forth about for the last several months.
Even though we moved the boat into a covered slip for the duration of the project, a blowing rain sometimes gets through the ventilation louvers on the east side just below the roof and goes guess where? Onto the foredeck, of course. Tarps help, but some water seems to find its way through.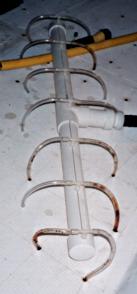 I made the device from:
40″ 1-1/2″ PVC Schedule 40 Pipe
1 1-1/2″ Tee
2 1-1/2″ End Caps
1 1-1/2″ Sink Drain Connector Fitting
7 1/4″ Barb x 1/8″ MPT Plastic Tee
10′ 1/4″ I.D. x 3/8″ O.D. Clear Plastic Tubing
1 Small Can PVC Cement
The cost was about $15 for the material and the only tools required were pliers and a 1/8″ NPT tap.
Logic says pulling water out is preferable to blowing it with compressed air. Where does the air go when you blow it? I probably don't want to know, but when you suck it out, you can monitor it's progress through the clear plastic tubing and when it stops, it's time to move on to the next set of holes. I drilled 3/8″ holes on 6″ centers and that of course determined the size of the tubing and placement along the pipe. The tubing was a press fit into the deck holes and sealed sufficiently to function well. In fact, leaving a few tubes open when at the end of a row didn't seem to have any effect on the ones plugged in, the total area of the fourteen 1/4″ holes being only slightly more than the 1-1/16″ I.D. of the vacuum cleaner hose nozzle.
I'm still a ways from being finished with the project, but to this point I can't say enough for the support you offer and for the prompt way in which you answer e-mail. Since the boat is 200 miles from home I have to e-mail my questions from the Orange Beach, AL public library and it is great to be able to know I'll get an answer right back. Thanks for everything.
Yours truly,
Jim W.