Home > Customer Projects > Transom/Stringer/Floor Repair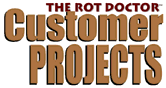 Subject: Transom/Stringer/Floor Repair
Date: January, 2006
Note: All images can be seen in a larger version by clicking on them.
One of our customers very kindly supplied us with these pictures of his transom, stringer and floor repair. The work was done at a professional level and his notes on the pictures describe the process.
* These products are unavailable, we are selling comparable products that will perform these same tasks. Feel free to contact us if you need assistance with which products to use.
---
Have questions?
Contact us by phone 206-364-2155 or e-mail (send us your pictures) at drrot@rotdoctor.com and we will gladly answer questions about our products or how to apply them. With 20+ years of experience and many more in the boating and construction industries, not much surprises us. We are here to help our customers solve their issues. Let us help you to not have any surprises in your repair project.