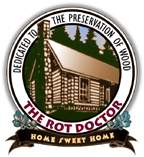 Log Homes
Welcome log home owners and prospective owners. You are a unique group that has made a lifestyle choice a little outside the ordinary. Kind of like those of us who live on wooden boats. We all enjoy the special qualities these distinct living arrangements give us,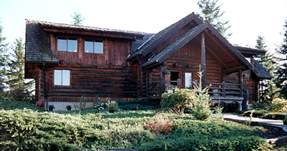 and although there may on the surface seem a world of difference between wood boats and log homes, we do have some very common interests.
Chief among these is the protection and preservation of the material — wood — from which our homes are constructed. A normal wood house is a spindly structure compared to a log home. It is quickly put up and can be torn apart for repairs fairly easily. It may not seem easy to the house owner, but compared to what a log home owner must go through to make major structural repairs it is easy.
The average wood home exterior is planked on frames and then covered with paint. Rain and water run easily down the sides, over the laps, and onto the ground. The water has little opportunity to get into the wood. Not so with log homes. The caulking leaks, the end grain on logs absorb water, checks open in the logs and water gets in, gutterless roofs allow water to drop and splash back onto logs, and so forth. Just think a little and you can see many ways water can get into the logs. Add the sunlight, summer heat, certain fungi and bacteria and you have rot. And a rotten log is not easy to replace. Worse yet, the logs often rot from the inside, and you don't even know it until you see a breakthrough or hear that hollow thunk when you rap on the log.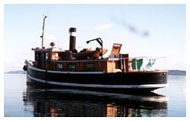 Boats have similar problems. Here's a picture of our Canadian tug, DELTA. The hull was built in 1889, and many of the original timbers are still in place. The planks are 2" thick and made of fir. She has large timbers in her, and some of these have rotted. If you are interested, you can go to our RottenBoat 'Zine and see how we repaired one large timber. She now sits at a nice dock in Seattle, and we live aboard her. Every piece of bare wood we can get at and all new wood going onto DELTA is saturated with Clear Penetrating Epoxy Sealer™ (CPES). We're protecting what we have and preserving what we add.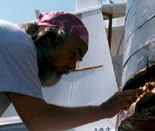 Doctor Rot has over 26 years experience with repairing and restoring bad wood.
The CPES is a unique product. It is a specialized epoxy. There is no other wood restoration product on the market that even comes close to the performance level of CPES. You can see test results by clicking here. You cannot buy it at home stores, log home suppliers or from people who sell log home supplies. You can buy it from us through our order form or by phone, along with complete technical help every step of the way. We accept VISA, MASTERCARD, DISCOVER, AMERICAN EXPRESS, personal checks and money orders. All normal-sized orders ship within 24 hours from both coasts via UPS GroundTrac, domestic US only. Special large orders may take 10 days to two weeks to ship.
Our interest in log homes has only to do with the restoration of rotted or deteriorated wood, and the protection of new wood with epoxy based products. We do not sell or even have strong opinions about final sealers/finishes, caulking, and other products that are part of the log home experience. We suggest you contact your log home products supplier for any information on these products, or a log home architect/builder for questions regarding construction or reconstruction.