Termite and Boring Insect Damage
Log homes are particularly vulnerable to termite and insect damage. They are made of big (attractive to insects!) pieces of wood and they are often located in rural and wooded areas where insects abound. Insects love log homes! While termites are the log home owner's main concern, there are a variety of insects that can and do penetrate wood. Other insects such as a variety of ants, beetles and bees often simply use the wood for home and breeding space. Their damage is not so extensive, but does provide an access for water to get into the wood. It's not uncommon to see extensive fungal rot in areas where insects have penetrated.
The damage is often not severe enough per se to require immediate repair. But the insects should be eliminated and, more importantly, the area sealed off so that moisture won't accumulate inside and lead to fungal rot damage. If this occurs, then the entire center of the log can be hollowed away and a large repair required.
Unfortunately, termite and boring insect tunneling is often on main frames or sill areas, and in due course will cause major structural damage. Replacing logs is not always an option, and even if it is, replacement can be expensive. What needs to be done is to restore structural strength to the log, and to seal the wood so that bacteria and fungi (and insects) won't have access to the interior.
Epoxy treatment will provide an all-around solution. For starters, no insect can survive immersion in epoxy! The most important point to this solution is that epoxies are by far the best way to restore strength to damaged wood. They are extremely strong, bond easily and strongly with the wood, and have an indefinite life. But you have to use the right epoxies...
The damaged area must first be treated with a penetrating epoxy (CPES™), to harden the wood and encapsulate any bacteria or fungi, and then either a flowable thick epoxy (Layup & Laminating™ Epoxy Resin) added to penetrate the insect tunnels or, if access is clear, an epoxy filler (Fill-It™ Epoxy Filler) applied to build back bulk and bond with the CPES treated wood. The flowable epoxy must be extremely slow-setting to allow time for it to migrate to all open areas. Our Layup & Laminating Epoxy Resin is the slowest-setting epoxy we know of.
Click on photo's to enlarge.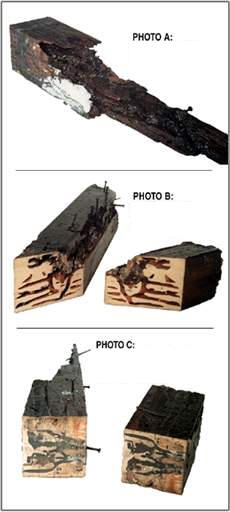 The photos (right) show a badly damaged piece of wood (two pieces, actually, but both from the same timber and both damaged) that were deteriorated by both termites and fungal rot. PHOTO A shows the piece after it has been flooded with CPES and then Layup & Laminating Epoxy Resin. You can see a termite corpse near the outer nail. When the CPES was applied the termites rushed out and were encapsulated.
PHOTO B shows a cut section after it had been treated with CPES, but before it was flooded with Layup & Laminating Epoxy Resin. You can see that the termite tunnels are darkened by the penetrated CPES, but that the good wood remains unaffected. CPES only deeply penetrates deteriorated wood. The dark brown material is rotted wood and termite residue that has been penetrated and turned hard by the CPES.
PHOTO C shows a cut section after the termite tunnels were flooded with Layup & Laminating Epoxy Resin. They are now solid resin, bonded to the CPES, which is in turn bonded to the wood. This wood is strong. You could drive a spike with it.
Repairing Insect Damage
The repair process is fairly simple:
1) Dry the wood if it is damp.
2) Flood it with CPES, through open tunnels, or through drilled access holes, allowing the wood to absorb as much as it will. If done in an enclosed space, we strongly recommend the use of a cartridge respirator, such as the Moldex unit we sell. Allow the CPES to cure.
3) Wrap any open areas with kitchen wrap (Saran Wrap) to keep the L&L Epoxy Resin from escaping, and then flood the tunnels with the resin. This may take awhile, because as the resin settles into place you will have to go back and add more. If the voids are large, you can finish the flow with a pourable slurry of L&L Epoxy Resin and sawdust. Remove the kitchen wrap after 24 hours and you are through.
Fill-It Epoxy Filler can be used to enclose large open areas. It will bond strongly with the CPES or Layup & Laminating Epoxy Resin treated surface.