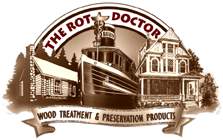 P.O. Box 30612
Seattle, WA 98113
Phone: 206-364-2155
Fax: 206-364-4744
E-mail: drrot@rotdoctor.com
©1997-2020 The Rot Doctor, Inc.
All rights reserved.
Support Services
We'll gladly discuss your project and advise you to the best of our ability. You may send photos and a description of your project to help us determine the extent of your rot repair.
Our business hours are 6:30 AM to 5:30 PM Pacific Time, Monday through Friday. Please feel free to call, fax or e-mail us if you have any questions or wish to place an order. Our tech support system is available over weekends and holidays 8:30 AM to 5:30 PM Pacific time to answer any questions you may have.
All of our epoxy products are manufactured by a single company, are tested and true, and will work exactly as advertised. The epoxy products are custom formulated from resins derived from wood. They are more expensive to manufacture than the standard petro-derived resins, but bond better to wood, and are tougher and more flexible. We have tested them all ourselves and found nothing else on the market that will equal them. We guarantee their value. It's that simple. We ship by the next business day and all products come with directional literature.