Home > Product Testing > Polyurethane Test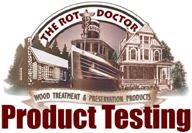 FIVE YEAR TEST: Polyurethanes and Epoxies over Plywood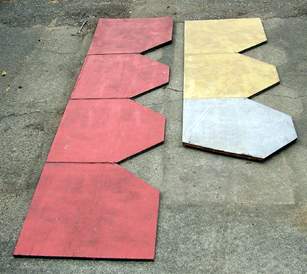 The picture above shows two 3/4″ (19 mm) exterior grade plywood panels overcoated with different combinations of our polyurethane and acrylic/epoxy coatings. These panels have been exposed to Seattle weather continuously since Spring 2001, and were subjected to foot and light automotive traffic.
All test panels may be viewed in larger versions by clicking on the photo.

Test Notes:
Products used in these tests:

Rhino Top, a water-based acrylic/epoxy exterior coating.
Elastuff 120, a 2-part, 100% solids polyurethane coating.
Uniflex 255 Aliphatic (Since Uniflex is no longer available, please use our Elasta-Tuff™ 6000-AL-HS instead.)
CPES™ (Clear Penetrating Epoxy Sealer)
Dymonic® FC Sealant
Fill-It™ Epoxy Filler

Before the panels were coated with our polyurethanes, all were primed on top, bottom and edges with a single application of CPES, with the exception of one panel end. CPES protects wood, and we wanted to demonstrate this by not coating the end of one panel. The results can be seen in pictures below.
CPES also provides a good bonding surface for our coatings, as well as any other paint or clear coating. Coverage for CPES on good wood is approximately 200–250 sq. ft. per gallon (5–6 sq. m. per l.).
The vertical ridges on the test panels are our Dymonic FC, a polyurethane sealant. The uneven horizontal ridge is Fill-It Epoxy Filler. We wanted to also demonstrate the ability of our coatings to bond with these products.
Results
Left Side: Rhino Top alone over untreated plywood.
Right: Rhino Top over Elastuff 120 over CPES treated plywood.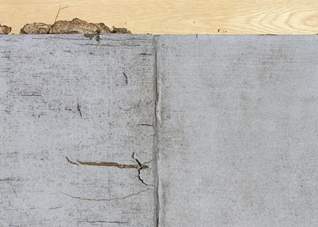 On the left side of this test section is Rhino Top over the plywood panel end that had not been treated with CPES. The plywood has rotted and the Rhino Top cracked open. The first indication that this was happening occurred after 24 months exposure. On the right side of the test section is Rhino Top over Elastuff 120 on CPES coated plywood. The surface is still intact with no signs of splitting or cracking.
Note the extensive fungal growth along the edge that did not receive the CPES coating, and no fungal growth at all along the edge that was coated with CPES. The edge of the CPES-treated panel remains firm and unaffected by the exposure.
This is clear evidence of the ability of CPES to protect wood. See our Plywood Preservation Test for more detailed information on the results of this test.
Left: Elastuff 120 overcoated with Rhino Top over CPES treated plywood.
Right: Two Coats of Elastuff 120 over CPES treated plywood.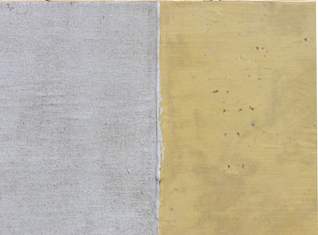 On the right side the panel was coated with two layers of Elastuff 120 and left exposed. Exposure to weather and UV light has turned the original gray surface to a creamy-tan color. This does not damage the Elastuff coating, but the color is not particularly attractive. Note that the surface shows no breaks or indication that the Elastuff is delaminating from the surface. The small bubble rings occurred during application as the wood displaced air into the coating. These are hidden with any of our overcoatings, or can be sanded smooth after the Elastuff cures.
On the left side the Elastuff 120 was coated with Rhino Top. The surface is perfect. Bonding with the Dymonic FC polyurethane sealant is intact.
---
Left Side: Two Coats of Uniflex 255* over CPES treated plywood.
Right: Three Coats of Uniflex 255* over CPES treated plywood.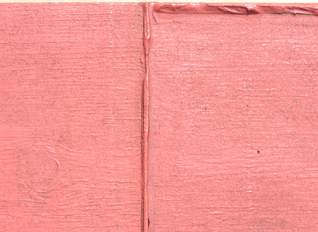 Uniflex 255* applied alone (with sand for non-skid purposes) over the panel surface, two coats on the left and three coats on the right. Both surfaces are perfect. The color is also as original (NOTE: Tile Red is no longer available), with no indication of UV degradation. Vertical ridge shows bonding with the Dymonic FC is intact and shows no wear, and the same applies to the horizontal Fill-It ridge along the top.
Left Side: Two Coats of Uniflex 255* over CPES treated plywood.
Right: Two Coats of Uniflex 255* over Elastuff 120 on CPES treated plywood.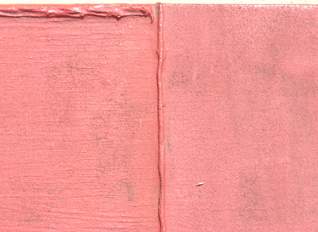 On the right the Uniflex 255* was applied over an Elastuff 120 base, and on the left the Uniflex 255* alone. The Elastuff 120 provides a smoother, more uniform surface, but both surfaces are intact and without any signs of wear, deterioration or breaks. Bonding with the Dymonic FC and the Fill-It is intact and also shows no signs of wear.
The results of this long-term testing show the real-world durability and inter-product compatibility of our line of polyurethane coatings, caulks and epoxy fillers. They all bond together and they endure outdoor exposure over a prolonged period of time. As the testing shows, their endurance depends partly on the application of our CPES™ as a wood protective coating.
How these products are used depends on the depth and level of protection desired. Rhino Top alone over CPES-primed wood can be regarded as a high quality paint. It will last for a several years and then have to be recoated (click here for complete info on Rhino Top). It's real value is as an overcoating for the Elastuff 120, where a chemical bond is achieved between the Rhino Top and the Elastuff. As the testing indicates, after 5 years of traffic and exposure there is no sign that this combination is breaking down. The Elastuff/Rhino Top makes an ideal deck coating, waterproof and durable.
The Elastuff 120 is also an ideal waterproof coating for boat hulls, particularly from the waterline down. Its flexibility allows the wood to expand and contract slightly without putting undue stress on the wood joints and fasteners. If lightly sanded it can be over-painted with any type of paint or coating. (Click here for complete info on Elastuff 120).
Uniflex 255 Aliphatic* is a thinner, easily applied polyurethane coating that is waterproof and impervious to UV light. It is the ideal coating for the UV protection of wood, and life expectancy exceeds 10 years. It can also be used as a deck coating, and sand can be added for non-skid traction.
Elastuff 120 overcoated with the Uniflex 255 Aliphatic* is the ultimate in tough, totally waterproof coatings. Click here to see a schematic of the polyurethane coating options, and their approximate cost per sq. ft.
---
Conclusions
1) All coatings that have been applied over a CPES treated surface remain virtually as original after almost five years of extreme exposure.
2) Both the Fill-It Epoxy Filler and the Dymonic FC Sealant hold the coatings and remain intact.
3) Wood that has not been protected by CPES will have a tendency to rot, given the proper moisture and temperature. Wood that has been treated with CPES is extremely resistant to rot.
Recommendations
1) For durable, long-term surface protection for wood, use our polyurethane coatings over a CPES treated surface. These coatings will show the same durability when applied over a properly prepared concrete.
2) Use our Fill-It Epoxy Filler for filling and our Dymonic® FC Sealant for all sealing.
3) Treat plywood after it has been cut/trimmed with CPES. This will significantly reduce the chance of rot and delamination.
4) We recommend that you use standard exterior-grade untreated plywood, and then treat it with CPES before installation. Pressure-treated plywood is somewhat resistant to rot, but cutting treated plywood exposes untreated wood, and it then becomes vulnerable.
For more details on CPES and Wood Preservation, click here.
---
* Since Uniflex 255 is no longer available, please use our Elasta-Tuff™ 6000-AL-HS instead.