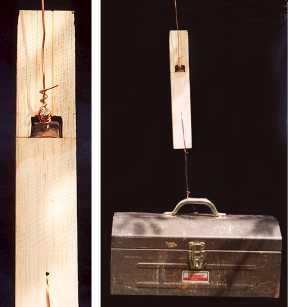 How Strong
is this Treatment?
The final part of this test proves the strength of the bond between our products and the wood. We drilled a pilot hole in the CPES/L&L Epoxy Resin saturated sawdust and put in a #12 bronze wood screw. We then took copper wire, attached it to the screw and hung the thing from a tree limb. We show the screw, wire and CPES saturated sawdust block in the picture to the near right.
Then we hung a 20 lb. tool box from the bottom of the block and left it there for hours. When we took it down at the end of the day there was no indication that the screw had moved any significant amount.
Had this been a deteriorated wood repair in a structure it would have been very strong.
Test Conclusions
This demonstration makes several important points:
1) CPES will penetrate a long way through soft or deteriorated wood.
2) CPES used the remaining wood fibers (in this case, sawdust) as a matrix for the epoxy to bond with.
3) CPES makes the soft or deteriorated wood hard if saturation is complete and it is given sufficient curing time.
4) CPES is not a filler. It saturated and hardened the sawdust, but did not fill the resulting vacant spaces when the sawdust shrunk. On deteriorated wood that is more or less still complete, one or more applications of CPES will harden it sufficiently to accept fasteners and paint or varnish. If there are vacancies, then the addition of Layup & Laminating Epoxy Resin is required to make the strongest repair.
5) The Layup & Laminating Epoxy Resin applied over CPES treated wood will penetrate a good distance through a closed system, and even further if larger holes are drilled. L&L Epoxy Resin is a very strong, very slow-setting premium grade epoxy resin that even when cured retains the same slight degree of flexibility as the wood itself. It is very thick when first mixed but thins over several hours and gradually penetrates any vacancies and spaces in wood. It will cure at temperatures as low as 28° F (-2° C). We know of no other general use epoxy resin that has these exact characteristics.
6) When properly applied, the combination of these two products produces a very strong repair in soft or deteriorated wood, even though the deteriorated portion lies deep inside a larger piece.