Rotten'Zine ©1997–2021 The Rot Doctor, Inc. All rights reserved.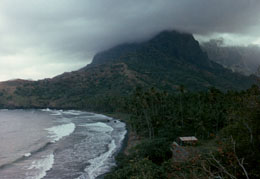 (Reprinted with permission of the author from an article in the May, 1980 issue of PACIFIC SKIPPER Magazine).
REFLECTIONS:

Good-bye to Venture
A Classic Alden Cruises the South Pacific
By Jim Chowning
I consider myself a privileged man. More from luck than anything else, or perhaps, to be fair to myself, a certain instinct for quality and an eye for beautiful lines wherever they may be found, I was able many years ago to purchase Venture from a gentleman in Rhode Island. At the time I was an innocent. Muddling around on Long Island Sound in little fiberglass boats was what I did, with an occasional voyage to Block Island. Venture was another thing entirely. I was to own her for seven years and to live aboard her, and together we were to cruise twenty-thousand miles in three oceans. There were some hard and useful lessons from the sea, as is common in this sort of thing, but the most important lessons I was to learn were those of the spirit. She brought out the best there was in me to give, there can be no doubt about that. From the beginning the question was never would she fail me, but would I fail her?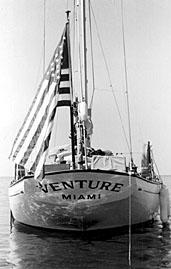 Venture was designed by John Alden, or rather by Carl Alberg who was apparently working for John in 1940. In any case, Carl, under John's imprimatur, signed her plans. With forty-two feet on deck, eleven-and-a-half feet in beam, six foot draft, long overhangs and graceful sheer, she was a classic Alden - a perfect symmetry of lines which John, more than any other American designer, seemed consistently to achieve. She an abundance of varnished mahogany (which old salts swore would never be carried past the first thousand miles), was lovely to behold, a source of great pride for me, and was much admired in anchorages from Honolulu to Charlotte Amalie. But lest the reader come to believe that I was solely responsible for all that Venture was, I hasten to write that no small amount of the yacht's enduring beauty must go to my wife, Livy. Under conditions sometimes adverse in the extreme, Livy always carried on the never-ending maintenance of an old wooden boat. I should also mention Stephen, my son. Although primarily engaged in completing correspondence school studies, he was not above contributing to the yacht's well-being, the principal activity being that of swilling her teak decks with water to counteract the dehydrating effects of the tropical sun.
Goudy & Stevens of East Boothbay, Maine, built her, and as far as I was ever able to determine, well enough. Her problems were to stem from the relatively light scantlings that were used in racing boats during the early forties, and of course from her age. She was, after all, over thirty years old when I took her away from an easy life of summer sailing and winter rest. I was to learn, as this entry from Livy's sailing journal shows, that there were certain limits beyond which one did not press these old girls.
6 April - Departed Royal Island (Bahamas) for passage to St. Thomas. Weather turned horrible, green heavy clouds…high winds and large seas…about 10 feet. We beat into it for hours. Boat plunging and solid water coming over bows. Couldn't make much headway and had to turn back. Opened seams forward so it's back to Nassau to haul and re-caulk.
My only positive memory of the day is that while returning to Royal Island, Stephen (who fished always, regardless of whatever else was going on) caught a large barracuda and we ate well that evening.
Venture' life before I acquired her followed a fairly typical pattern for a yacht of her pedigree. Launched and commissioned in 1940, a succession of owners raced her twice that I know of in the Bermuda Race. In the 1960 race a cold front moving south joined an area of low pressure off Charleston and caught the fleet in a series of gales. Venture lost her mast over the side and, in the words of the owner at the time, "…suffered enough other damage to put her on the bottom of the Gulf Stream. I practically had to rebuild her." A few years later she was retired from racing and spent her summers cruising from Maine to the Chesapeake Bay.
As I lived aboard and sailed Venture I came more and more to appreciate her virtue and to realize that the new designs incorporating her particular combination of speed, comfort and seaworthiness were no longer common. She was a deep boat, resting in the water rather than on it, and always presenting a low profile to the sea, Her bilges were slack and her keel long; her motion was soft, easy, and she tracked straight and true. She was fast, of course. But for us - a man, a woman, and a boy making long passages in all weather without steering aids - most impressive was her ability to make speed with little sail. From Livy's journal, at sea 400 miles north of St. Thomas: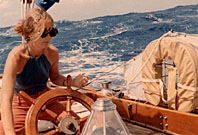 28 April - Hit the N.E. trades today. Beautiful weather. Wind 25k N.N.E. … monstrous following seas (15–18 feet), long and powerful. Venture under yankee and staysail, wing-and-wing, averaging 8 knots. it's a thrill!
On that day and the next we covered over 190 miles each 24 hours, noon-to-noon, flying a total of 550 square feet of canvas. On the passage from St. Thomas to Panama, under the same canvas, but in winds that never exceeded 18 knots (or dropped below 10 knots) Livy noted:
24 May - At 1200 hrs. we are five days out and have done over 800 miles. Can smell the South American continent now…marshy, jungly…especially during early morning hours.
A seven knot average for that passage. Indeed, with a clean bottom and a little wind, she could fly.
Ocean passages and the events surrounding them are sequential, but the memory of them often is not. The mind's eye conjures images, impressions, and points of high emotion when all the scattered feelings one has about things, people, and events coalesce and form a single powerful unit which imprints itself on the mind, to remain forever. My feelings for the boat and the people aboard her are a complex matrix: It is impossible to separate one from the other.
Southeast of the Galapagos and bound for the Marquesas, I was awakened from a deep sleep by the sound of wind and rain. Livy was in the cockpit. She had Venture hove-to under the staysail and had stretched out the storm trysail and other pieces of canvas to catch the fresh water. Her jacket hood had blown back and the wind and rain lashed her face, plastering strands of dark hair against her cheeks. Buckets and pans overflowed with water, and she poured them into the tank as best she could, for the boat was in motion. She was out there doing what had to be done regardless of circumstances, and as I peered at her from the hatch my love and admiration had never been greater. Her journal entry gives a better view:
16 Feb. - Searching for wind. Jim steered my evening watch, riding the edges of squalls. We can see six or eight at a time. He just skirts the edges, not penetrating too deeply where the heavy winds are. Venture has to be handled carefully…she's under full sail, doing 9–10 knots at times. When we move past one squall, Jim alters course and steers into the edge of the next. Exhilarating, but kind of nerve-wracking too.
Ran out of squalls…becalmed again. Dropped all sail except staysail. Jim went to bed. Later another squall. Rained like hell. Collected enough water to fill port tank. Such a relief! We were beginning to ration. Still have to be careful. Fourteen days out of Panama and only 1100 of the 4500 miles under Venture's keel.
On another occasion I was awakened, not apprehensively by wind or rain or some unexpected noise, but by singing. It was a simple piece of doggerel about a rabbit hopping through the forest bothering field mice. According to the song, the rabbit is repeatedly warned by a good fairy to either stop molesting the mice or get turned into a goon. Half asleep, listening to the litany, I was unprepared for the shouted punch line:
"Hare today and goon tomorrow!"
I leaped up, bursting with laughter and the joy of being there, a thousand miles from any land with Venture moving easily and steadily westward, and hearing the clear voice of my son singing at the helm. I've had him sing it to me since as a means of evoking the emotions of that moment; he always complies, but I believe he considers me a little foolish.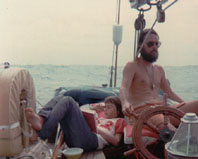 The exuberant joys of passage making come easily to mind, for those moments are, after all, the reason one is out there. But always, even on such easy voyages as running down the southeast trades, there is a persistent tension, an acute awareness that one's continued existence at sea depends on luck, God's grace, a fragile assemblage of planks, frames, knees, screws, and the skill and integrity of men who are perhaps no longer alive. Eric Hiscock once wrote of an Englishman who completed a circumnavigation in less than two years and was so exhausted at the end that he had to retire to the country for nine months to recuperate. I can believe it.
One yearned for, even dreamed about, the anchorage that lay ahead, particularly if it was an island, which seem to hold a particular fascination for sailors. Perhaps it is because an island appears as fragile, vulnerable and as much at sea as a sailor sometimes feels. And if boats can yearn, I'm certain Venture too looked toward the islands where she could rest, tethered to the bottom, and have her many needs looked after.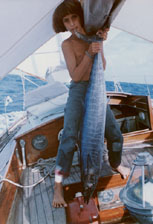 23 June - Coco Bandero Island (San Blas Islands, Caribbean side of Panama). What a picture-book place…all palm trees and white sandy beaches. Jim varnished, did some topside caulking…and finally repacked the stuffing box…it dribbled and leaked all the way across the Caribbean. Found a fallen palm and took the heart for salad. Delicious! Not over-rated at all. Went hand line fishing and got eight nice ones. A good change. All Jim ever comes back with is lobster and crab.
Venture seems happy here…and we may never get enough energy to leave.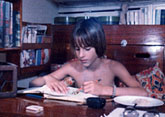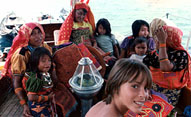 These were the special pleasures of long distance cruising. But one had also to bear up under a kind of slavery to the boat, not only to her incessant demands for maintenance, but to her very safety and well-being, born of the certain knowledge that in many locales she was the only available shelter and the only way out of there.
5 Aug. - Porvenir (San Blas Islands). Worked our way through the reefs to an anchorage in back of the island. Really bad electrical storm last night. In fact, I believe one bolt struck Venture's rigging. The boat jolted, and the noise was crackling and loud. Jim stood watch outside most of the night. Our anchors held, thank God, but the thunder and lightning were frightening.
Livy's journal hardly does justice to the madness of that night. Whether it was one storm holding stationary about the area or a continuous succession of furious episodes I can't say, but it was violent to the extreme. The wind came in blasts from every direction; it poured rain and the lightning was constant and close. For long periods of time the noise was simply deafening. I couldn't see; there was no way to know whether the anchors were holding or not. We seemed at the center of it all and I was very much afraid for Venture's safety and for ours. It went on all night and my courage to sit through it all came from several stiff shots of Barbados rum. The following day we learned that a boat anchored nearby had been struck directly by lightning and the charge had blown the fastenings out of her planks around the mast. Only continuous bailing with buckets and eventual beaching kept her from going to the bottom.
Venture survived the Panama lightning, and other dangers as well: A severe grounding in the Bahamas, a brush with sperm whales in the South Pacific. But the long passages were wearing her out and she was growing tired. We were running her longer and harder and driving her through more water in a few years than she had probably been through in all her previous life. I sometimes wondered if she wouldn't, like the old One-Horse-Shay, simply come apart all at once, leaving a trail of planks, frames and small pieces of wood strewn along the surface of the sea. As she carried us on, my love and enthusiasm for the boat only increased, but there were times when I felt overwhelmed by her demands, fatigued, knowing it was my fault, not hers, but feeling angry and defeated nevertheless.
19 June - About 2000 S of Hawaii…made 165 miles last 24 hours. Bad squall during Jim's watch. Came on suddenly…wind gusting up to 60 knots. Jib, staysail, storm trysail all up. Rather than wrestle canvas in the dark Jim bore off the wind. Speedo needle against the peg at 10 knots. Said it was all he could do to control her.
Later - Bad leak in keel bolt in aft cabin. Jim and Steve capped it with a bottle top filled with caulking cotton and Thiacol held down with 10 feet of 3/8 chain and a 40 pound pig of lead. Rube Goldberg affair, but it worked. Jim not feeling good about this.
28 June - 800 miles S. of Hawaii…made 154 miles. Clear, sunny, bright day, whitecaps on steep, choppy sea. Close reaching…spray flying all over.
Serious leak in forepeak. Hove-to and cleared area…three anchors and 900 feet of 3/4 inch nylon rode. Jim found the leak and packed with cotton…a 3/8 floor-to-keel timber bolt rusted through, Jim thinks. Will replace in Honolulu. Poor guy is tired.
Bunks are absolutely marshy…so are pillows and blankets. Wettest passage we've ever had.
13 August - About 41° N. 140° W. 148 miles last 24 hours. Made our turn toward Seattle. Close reaching in steep seas. Cold and wet.
Another keel bolt leaking badly…maybe broken. Jim stopped it with the old cotton and Thiacol trick, but he's worried about the rest of them.
1900 hours. Changed course from 10° which would have taken us toward Seattle to 75° which will take us to San Francisco. Jim's decision…go off the wind and ease the strain on the boat. Can almost hear poor old Venture sighing with relief.
Don't really want to do SFO, but it's the safest thing to do under the circumstances.
Misty with heavy low clouds. Moon plays optical tricks in this strange sky.
25 August - Pt. Reyes sighted at 0700 hours. Have done 140 miles last 18 hours. Venture really showing her stuff on final voyage - with us.
Can see towers of Golden Gate Bridge. 25 days at sea and glad to be here. Hot showers, here I come!
I stand now at Cape Disappointment on the Washington coast and watch the wind shuffle the dune grass. Over the water the clouds are blue-gray, flat-bottomed and billowing up, appearing ominous as the sun sets, but not really. There's a light chop on the surface of the ocean, and as I look across it my imagination carries me again to Venture's cockpit where I sit holding her wheel, steering north, feeling me move under me again. Well, maybe she'll sail these waters yet.
In the end she didn't fail me, as I had known all along; not did I fail her, which perhaps had not been so certain. She went into a San Francisco yard, one of the few on the West Coast capable of doing her justice, and I spent more on her than I had. Workmen as skilled as the men who built her replaced keel bolts, sistered frames, constructed a double steel framework to encircle the inside of the hull fore and aft of the mast. We sold Venture to a young man who was quite taken with her and we liked him very much. I wonder if he will care about her in the same way I did, will appreciate her many virtues?
Still, I can only be certain that Venture lives on, a construction of wood, a receptacle for dreams, always on the verge of great adventure, while those who sailed her move on to other boats or other lives, always shifting, this way and that, in the modern fashion. I miss her: Like the love of a good woman, there's a melancholy sadness when it's gone.